You are here
Awqaf minister checks on Jordanian pilgrims
By JT - Sep 01,2016 - Last updated at Sep 01,2016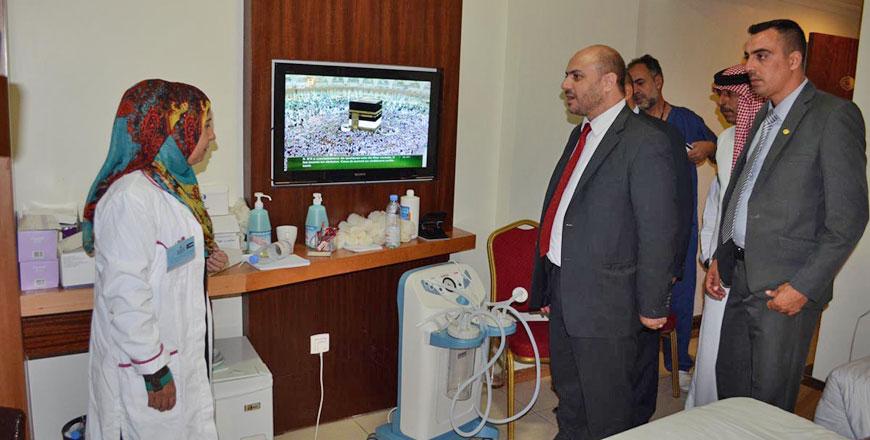 AMMAN — Awqaf Minister Wael Arabiyat, head of the Hajj (greater pilgrimage) delegations, on Thursday stressed the importance of providing comfort to Jordanian and the 1948 Arab Palestinian.
The pilgrims, some of whom have already set out for Saudi Arabia, are all scheduled to arrive next Monday, the Jordan News Agency, Petra, reported. Arabiyat, who was in Medina, met with Mohammad Bijawi of the Saudi ministry of Hajj, and discussed cooperation on arrangements related to the pilgrimage.
The Saudi official welcomed the Jordanian pilgrims to Medina and Mecca. Arabiyat also met with the media and medical group accompanying the pilgrims, and checked on those who have already arrived in Medina.
Some 5,600 Jordanians and 3,600 the 1948-Arabs are performing Hajj this year.
Related Articles
Jul 23,2015
AMMAN — Awqaf Minister Hayel Dawood announced on Thursday the arrangements for this year's Hajj, the greater Muslim pilgrimage to Mecca, the
Aug 15,2016
AMMAN — The first caravan of pilgrims performing Hajj (the greater Muslim pilgrimage to Mecca) will depart on August 30, the 26th of Dhul Qa
Sep 25,2014
Jordanian Hajj pilgrims arrived in Medina Munawarah on Wednesday night and 5,600 are currently staying at their designated hotels.
Newsletter
Get top stories and blog posts emailed to you each day.