You are here
Awqaf officials call for safeguarding Jerusalem against Israeli measures
By Merza Noghai - Dec 18,2014 - Last updated at Dec 18,2014
AMMAN — Speakers at the International Forum for Jerusalem Waqfs on Wednesday stressed the importance of ending unilateral Israeli actions against the occupied city and halting settlement expansion through "unified Arab action" to defend Jerusalem and its holy sites.
Sami Salahat, founder of the International Institute of Islamic Waqf in Malaysia, said waqfs (Islamic endowments) in Jerusalem in 1967, before the Israeli occupation, constituted 67-80 per cent of the total area of the city, noting that the occupation and its continuous excavations have hindered efforts to develop waqfs.
The two-day forum aims at discussing the conditions of waqfs in Jerusalem and setting strategies to develop them through implementing successful initiatives and projects.
"Israel is using all possible means to achieve its interests in Jerusalem and change its Arab, Islamic identity through excavations, building synagogues, changing the Arabic names of its neighbourhoods and allowing settlers to enter Al Aqsa Mosque," said Abdullah Abbadi, director of Al Aqsa Mosque affairs at the Awqaf Ministry.
Abbadi added that Jordan has maintained its role in safeguarding Jerusalem and its holy sites under the Hashemite custodianship even before the establishment of the Kingdom.
Azzam Khatib, director of the Jerusalem Awqaf Department, said the department has around 700 employees tasked with supervising Al Haram Al Sharif and all waqf funds in the city, noting that 70-75 per cent of the old city is waqf.
Khatib said the department, which functions under Jordan's Ministry of Awqaf and Islamic Affairs, supervises 101 mosques, 42 schools and two religious schools in the city, in addition to hospitals, markets, and social and religious facilities such as zakat (Islamic tax on income) committees.
"There are 1,100 old waqf buildings rented at low rates, with His Majesty King Abdullah recommending not raising these rents to support the presence of Arab Jerusalemites in the city," he added.
Ikrimah Sabri, imam of Al Aqsa Mosque, identified three types of leases for renting waqf buildings or land: unlimited, long-term and short-term.
"The unlimited lease, which emerged in the 17th century during Ottoman rule, allows the tenant to lease out land and benefit from it through building or planting at his own expense in a way that does not harm the waqf, in return for a symbolic rent," Sabri said.
But he pointed out negative aspects of this type of lease, explaining that some tenants claim ownership of the waqf, a practice that forced the awqaf department to stop implementing this lease in 1967.
"Long-term leases include signing 99-year contracts, later reduced to 29, renewable once depending on the current rents," Sabri added.
The short-term lease, which can be renewed, ranges between one and three years, and only includes buildings such as shops, offices and houses.
A paper presented at the conference by Khawlah Nobani on behalf of University of Jordan researcher Abla Muhtadi reviewed the policies adopted by the British mandate in Palestine between 1917 and 1948.
During that era, Muhtadi said, the British provided few opportunities to Arab students, while offering many chances to children of migrant Jews.
Her paper indicated that 1,099 students attended school in Jerusalem in 1926, while 4,434 children were deprived of their right to learn.
"To face this challenge, the higher Islamic council tried to support the educational sector through the waqf budget despite its limited resources," Muhtadi wrote.
Related Articles
Apr 09,2016
AMMAN — Jordan strongly denounced the Israeli occupation forces' arrest of Al Aqsa Mosque Imam Sheikh Mohammed Salim following Friday prayer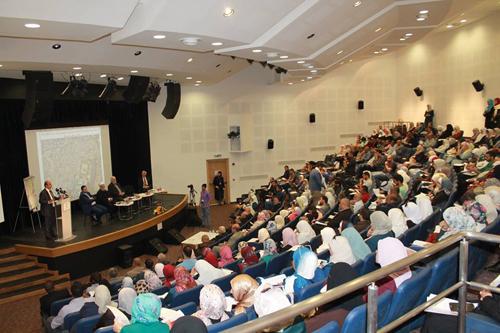 May 03,2016
AMMAN — Al Aqsa Mosque is a pure Islamic site that cannot be shared and divided, and any attempts to impose a status quo there are rejected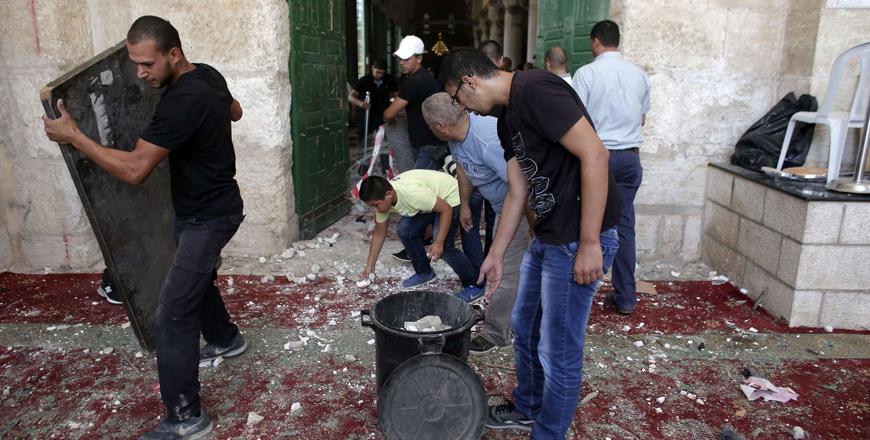 Sep 14,2015
AMMAN/OCCUPIED JERUSALEM — Prime Minister Abdullah Ensour on Sunday said the government has been closely following up on Israeli forces' sto
Newsletter
Get top stories and blog posts emailed to you each day.