You are here
Bazaar promotes Jabal Al Qalaa neighbourhood, domestic tourism
By Muath Freij - May 14,2016 - Last updated at May 14,2016
Visitors check products on display on Friday at a bazaar held at the Amman Citadel in Jabal Al Qalaa neighbourhood (Photo by Muath Freij)
AMMAN — Although Haifa Odwan does not make handicraft products, she decided to take part in a bazaar at the Amman Citadel to promote her neighbourhood of Jabal Al Qalaa.
Odwan, who was selling drinks and candy to visitors, said the bazaar, which opened on Thursday in celebration of Jordan Tourism Day, is a good step to attract more visitors to her area.
"Many people believe that the archaeological site is the only place they can visit in Jabal Al Qalaa. I want to show people that there is a beautiful neighbourhood that links the site with downtown Amman," she told The Jordan Times on Thursday while waiting for clients.
Odwan is among many women and men coming from all over the Kingdom to take part in the bazaar, which is held as part of Jordan Tourism Day and will conclude on May 20.
The bazaar, which opens at 5pm and closes 9pm, showcases products such as handmade items, sweets and traditional dishes. It also includes musical performances.
Tourism Minister Nayef Al Fayez said it is important to focus on this sector due to its economic and social importance to the Kingdom.
"There has been more focus on this sector recently. We still face challenges but... we will overcome them," he told The Jordan Times during the opening ceremony.
Handicraft artists and visitors interviewed by The Jordan Times commended the initiative behind the event, saying that it will help boost tourism in Jabal Al Qalaa neighbourhood.
Fatima Zakarnah, who came from Salt and was selling pottery items, said the bazaar displays the talent and the items made by artists who are not well known in the Kingdom.
Nihan Siam, who creates handmade accessories at her house in Amman, said such events help her make a living after her husband passed away.
"In the past, our main clients were tourists, and now members of the local community has started buying from us because they appreciate this kind of art," she added.
Um Emad, who came from Jerash to sell traditional meals, said she prefers to take part in events in Amman rather than in Jerash, some 48km north of Amman.
"There is a wide range of visitors in the capital while the number of my clients in Jerash is limited," she added.
Abdullah Thaher, who came with his wife and two children, said a good marketing plan is needed to make more people aware of such events.
"I knew about this bazaar by coincidence. It is good that they took advantage of this location," he told The Jordan Times on Friday.
On the occasion of Jordan Tourism Day, which was marked Thursday, Thaher suggested holding weekly events in different locations in the Kingdom to promote domestic tourism.
Related Articles
Sep 20,2014
With no means of entertainment or job opportunities at the Zaatari camp, Syrian refugee Najah Al Ali turned to her handicraft skills to fill her free time.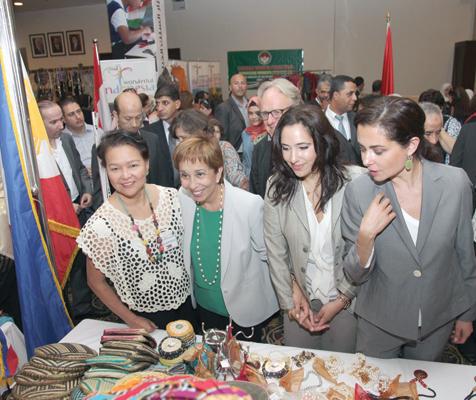 Oct 11,2015
AMMAN — Colourful textiles, traditional crafts and seasoned foods from all over the world were showcased in the 51st Diplomatic Bazaar on Sa
Nov 22,2014
The Handicraft Producers Association (HPA) is planning to hold an annual bazaar to showcase products made by craftspeople from across the country, HPA Spokesperson Omar Tahat said on Saturday. 
Newsletter
Get top stories and blog posts emailed to you each day.