You are here
Brazilians hope to nurture football among refugees, underprivileged in Jordan
NGO to start programme in Zaatari camp with opportunity to take skilled footballers to Brazil
By Dana Al Emam - Feb 13,2017 - Last updated at Feb 13,2017
Syrian refugees at the Zaatari camp train on football skills during a visit by representatives of the Viva Rio NGO from Brazil recently (Photo courtesy of Hashem Sabbagh)
AMMAN — Professional football training could be the best way for young refugees and underprivileged Jordanians to hone lifelong skills and values, according to a representative of a Brazilian sporting organisation.
Harnessing young people's enthusiasm for football and sports in general is a useful and interesting way to offer opportunities for personal and professional growth, said Rubem Cesar Fernandes, executive director of Viva Rio, a Brazilian NGO focusing on development through innovative projects.
Viva Rio has established the Black Pearls Academy, a high-performance football training centre for young athletes from refugee and underprivileged communities in Brazil and Haiti.
Fernandes started a visit to Jordan last week in order to explore the possibility of providing quality, professional training to young Syrian athletes in the Zaatari Refugee Camp, with the chance of expanding the programme to Amman and a larger segment of citizens, as well as Palestinian and Iraqi refugees , he told The Jordan Times on Monday.
Fernandes spoke of the universality of the "beautiful game", because "it is expressive of many values and virtues that are important in modern life, such as teamwork, fair play and competitiveness through capacity, not violence."
"We thought of coming to Jordan because of the presence of many refugees from countries like Syria, Palestine and Iraq," he said, highlighting Jordan's peacefulness and belief in dialogue and negotiation as a point of similarity with Brazil's foreign policy.
Fernandes added that his country is also more inclined to peace than war, with a foreign policy that depends on soft power.
"Football is something that is very expressive of Brazil's peacefulness," he noted, adding that the skills of diplomacy and negotiation apply to playing football in the same way that they apply to politics.
"Each football game is an act of negotiation," Fernandes said, explaining that athletes undergoing professional training come to practise discipline, patience, fair play and dealing with tensions rationally.
The organisation's plan, which is supported by the Brazilian Football Confederation and the Brazilian foreign ministry, is to start in the Zaatari Refugee Camp, some 80km northeast of Amman, where Brazilian football experts can share their knowledge in coaching and organising football.
The camp is currently home to 79,614 Syrians, the majority of whom are women and children, according to the UNHCR.
The intended programme will involve professionals in the fields of physical education, coaching, health, physiotherapy, psychology and organising matches and tournaments.
These experts will seek out the most talented footballers and bring them to Brazil, opening for them the possibility of a future in football.
Those selected for the intense training programme will receive high-performance training, in addition to secure housing, school classes and a balanced diet.
The very best athletes will have the chance to play internationally; those who are good can play in football teams in Jordan; while those who do not make it into the first two categories will have learned some important life-skills, Fernandes said.
"By the end of the year I hope… [that we will] look for partnerships that will allow us to function in Amman," he noted.
During his visit to Jordan, Fernandes met with officials at the Asian Football Development Association, the Jordan Olympic Committee, the Amman Football Academy and the UNHCR.
Responding to a question on whether the intended training programme will include young female athletes, Fernandes said FIFA supports further involvement of women players in order to create pressure to organise more and more women teams all over the world, including Jordan.
Brazilian coach and former footballer Zico, retired Brazilian footballer Roberto Carlos, and the Brazil women's team forward Marta are supporting the Viva Rio initiative, according to Fernandes.
Related Articles
Jul 27,2016
AMMAN — Eight Jordanian athletes will represent the Kingdom in the Rio Olympics in August in several sports, Brazil's Ambassador to Jordan F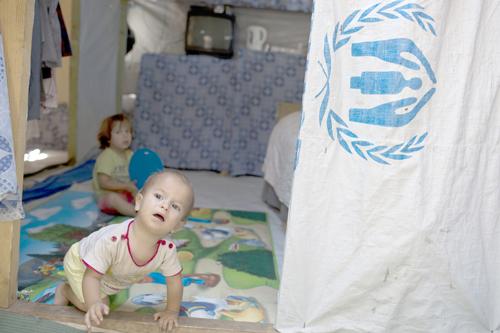 Jul 17,2016
RIO DE JANEIRO — When Hanan Dacka fled the civil war in Syria with her family to start a new life in Brazil, the idea that she might one day
Aug 06,2016
RIO DE JANEIRO — Brazil unfurled a vast canvas celebrating its rainforest and the creative energy of its wildly diverse population in welcom
Newsletter
Get top stories and blog posts emailed to you each day.