You are here
British scientists meet Jordanian peers over solutions to local challenges
By Camille Dupire - Mar 02,2018 - Last updated at Mar 02,2018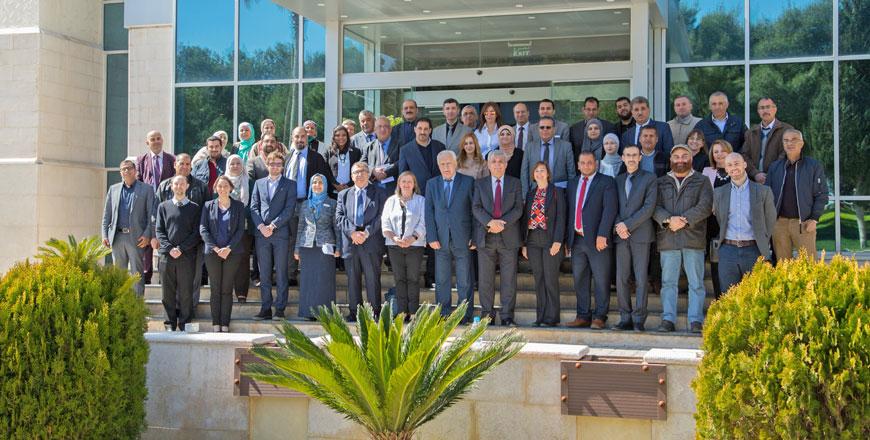 British and Jordanian scientists and researchers pose for a group photo in front of the Royal Scientific Society on Wednesday (Photo courtesy of Newton-Khalidi Fund)
AMMAN — British and Jordanian scientists and researchers on Wednesday gathered at the Royal Scientific Society (RSS) to collaborate on the design of innovative projects aimed at enhancing Jordan's economic development.
Held by the RSS in collaboration with the British embassy and the Higher Council for Science and Technology (HCST), the event took place under the umbrella of the recently launched Newton-Khalidi Fund.
"The Newton-Khalidi Fund was established in August 2017 to foster science, innovation and research between the UK and Jordan," said Gayathri Warnasuriya, Newton-Khalidi Fund's programme officer, noting that it is part of a UK Department of Business, Energy and Industrial Strategy initiative that provides £735 million in funding globally to promote economic and social development through science and innovation partnerships.
During the workshop, British experts from the Research Councils UK, the Met Office, the Arts and Humanities Research Council, the British Council and the Science and Technology Facilities Council collaborated with their Jordanian counterparts in government, industry and academia.
They shared information about their various organisations and innovative research currently supported in other countries. "Through this event, we seek to raise awareness on the Newton-Khalidi Fund, which allows researchers from both countries to envision, design and collaborate on projects that contribute to the national economic development," said Warnasuriya, who added that the Fund will also help in "creating decent and rewarding jobs, while strengthening UK-Jordan ability to tackle future global challenges".
Researchers also took part in a brainstorming session during which they identified priority areas for research in the Kingdom, which could be supported by the Fund.
During the event, HCST Secretary General Khaled ElShuraydeh, said: "The Newton — Khalidi Fund provides an important framework towards promoting increased research and innovation collaboration supporting long-term, sustainable partnerships and contributes to economic growth and the tackling of major challenges faced by Jordan."
For her part, Vice President for Science Engagement at RSS Hanan Malkawi commended the "interactive, productive and fruitful workshop", voicing her appreciation for the British participants and their Jordanian peers.
Following the workshop, a series of calls for research proposals will be posted through the Fund, in order to develop projects offering innovative solutions to local challenges, organisers said.
The Newton-Khalidi Fund, which was named in honour of renowned Jordanian scientist Usama Al Khalidi, focuses on seven priority areas: energy, water management, agri-technology and food security, nano-technology, bio-technology, bio-security and cultural heritage, according to Warnasuriya.
Related Articles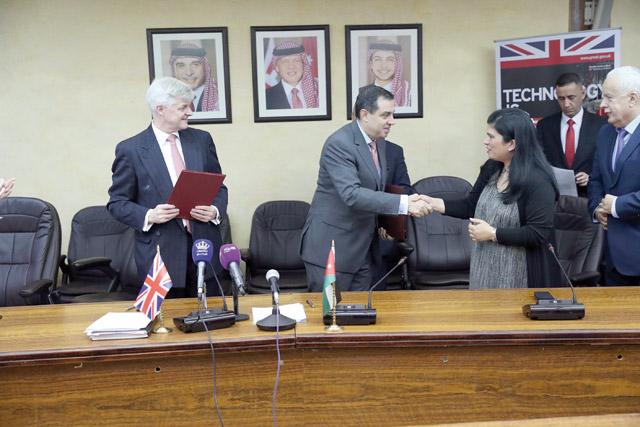 Aug 16,2017
AMMAN — HRH Princess Sumaya on Wednesday attended the signing ceremony of a memorandum of understanding (MoU) between the UK's department of
Dec 04,2017
AMMAN — A memo seeking to promote cooperation in the fields of science and technology was signed between Jordan and Spain on Sunday.The memo
Nov 19,2016
AMMAN — The second phase of an EU-funded project seeks to support innovation and applied research in the fields of water, energy, food and h
Newsletter
Get top stories and blog posts emailed to you each day.