You are here
BRT Ramadan operating hours irk many private sector employees, students
By Mays Ibrahim Mustafa - Mar 23,2023 - Last updated at Mar 23,2023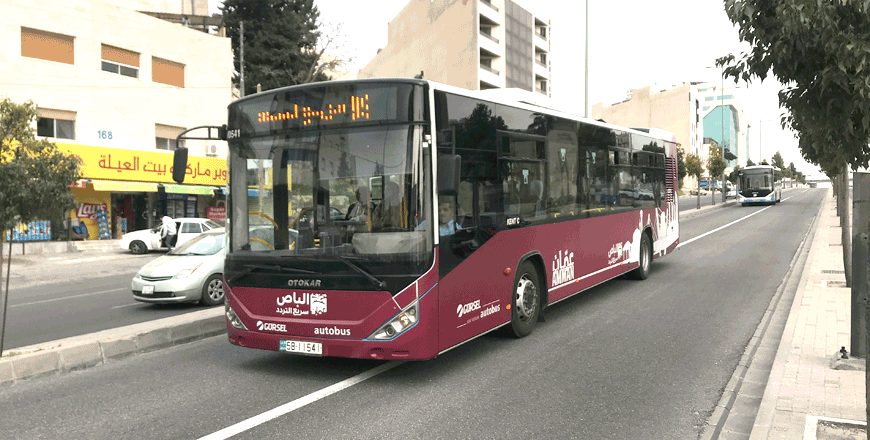 Changes in the operating hours of the Bus Rapid Transit have sparked anger among commuters in Amman, especially students and private sector employees (Photo by Rajive Cherian)
AMMAN — Changes in the operating hours of the Bus Rapid Transit (BRT) have sparked anger among commuters in Amman, especially students and private sector employees.
The Greater Amman Municipality (GAM) announced on Wednesday that the Amman Bus and the BRT will operate from 8am to 9pm, during Ramadan.
The BRT used to run from 6am to 10pm during workdays, while on Friday its operating hours were between 9am and 8pm.
The Jordan Labour Watch issued a statement on Wednesday, criticising GAM's decision. It pointed out that this decision is "unfair" to private-sector and shift workers, who are excluded from a government decision, which set the official working hours for the public sector from 10am to 3pm during Ramadan.
It also noted that the number of workers in the private sector, the majority of whom start their work at 8am, is much larger than that of public-sector workers.
Employees in sectors that begin work after iftar time (sunset) will be forced to rely on other, "more expensive" means of transport, it added.
Buthaina Alajarma, who lives in Naour, Amman, is a student at the Jordan University of Science and Technology (JUST), located on the outskirts of Irbid, some 70 kilometres north of the capital.
Alajarma, who usually takes two buses to the JUST, including the BRT, had to skip her lectures and stay home on Thursday due to the changes in the BRT's operating hours.
"My first lecture starts at 8:30. This means that I'll have to rely on taxis to arrive on time, which are too expensive for daily commute," she told The Jordan Times.
Ahmad, who works in Amman and preferred to go by his first name only, noted that his workday starts at 7am.
"I used to take the [BRT] to work, but today I had to pay JD3 for a taxi to get to work," he told The Jordan Times on Thursday.
Esraa, who also preferred to appear by her first name only, is a student at a university in Amman.
"My first lecture starts at 8:30 and I have to leave the house at 6 to 6:20 to be there on time," Esraa told The Jordan Times, noting that she uses both Amman Bus and the BRT to get to university.
"I am not sure what I'll do on Sunday if [GAM] doesn't reconsider this decision," she added.
Bahaa Abu Hamad, a nurse in the private sector who starts his work at 7am, now has to take a 4JD taxi to get to work instead of the BRT.
"Nurses work on shifts," Hamad told The Jordan Times, noting that he has colleagues relying on the BRT, whose workday ends "way past 9pm".
A fourth year medicine student, who preferred to remain anonymous, noted that her family is very reliant on the BRT, which has a stop station right in front of their house.
She told The Jordan Times: "I used to pay 55 piasters for the BRT and JD1 for a shared taxi to get to university. Now I have to take a taxi for JD3 to JD4 every day."
She added that her sister, who is a nurse, starts work at 7am and usually leaves the house at 6:30. Due to the change in the BRT's operating hours, she has to pay JD2 for a taxi to get to her place of work.
"My brother also used the BRT to go to school, which starts at 8:45. It's a bit far from where we live so he has to leave before 8am to be there on time. Now my father has to drop him off and this means that he'll be late to work everyday,"
Despite repeated attempts by The Jordan Times to contact GAM, officials were unavailable for comment.
Newsletter
Get top stories and blog posts emailed to you each day.