You are here
Campaign collects children's hair donation for young cancer patients' wigs
By Sawsan Tabazah - Oct 26,2017 - Last updated at Oct 26,2017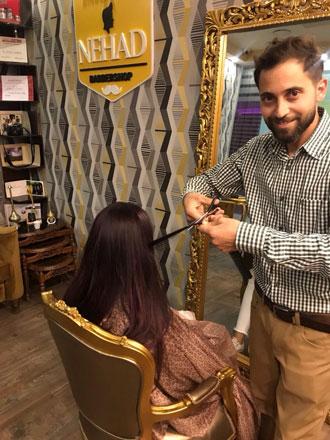 Nihad Dabbas started Hareer initiative with the aim of instilling hope and happiness in the hearts of child cancer patients through providing natural hair wigs (Photo courtesy of Nihad Dabbas)
AMMAN — An initiative aimed at instilling hope and happiness in the hearts of child cancer patients through providing natural hair wigs will start a hair donation campaign across Amman next week, according to the founder of the initiative Nihad Dabbas.
Hareer initiative collects hair donations from children willing to help cancer patients suffering from hair loss, one of the side effects of chemotherapy, Dabbas told The Jordan Times over the phone.
Hareer initiative, "Silk" in Arabic, seeks to provide young patients with natural hair wigs as "hair means a lot to young children, whether they are girls or boys," said Dabbas, who owns a hair salon in Amman.
Dabbas said that the initiative started two months ago, in cooperation with the Friends of Cancer Patients society (FCP), noting that "hair donation events" will take place in various malls across Amman, targeting children willing to donate.
Hareer has collected 30 tufts of hair so far and expects more donations through the upcoming campaign, which will provide child donors with a free haircut, the barber added.
FCP's President Musa Riyashat said that the number of cancer patients has been increasing, including the number of children, with 180 cases registered among children last year.
"Hair is a sign of beauty for both male and female children. They do not understand why they lose their hair but they understand that their peers and siblings do have hair, which bothers them," Riyashat explained.
He said that hair loss triggers strange gazes towards young patient at school and in the street, which often affects the child negatively and ultimately impacts the child's response to therapy.
"Cancer patients' response to therapy is highly affected by the individual's psychological state, and a natural wig that looks like the child's previous haircut and colour tends to help a lot," he added.
Dabbas said that he will provide free haircuts and styling services to patient beneficiaries, noting that hair perukes made from the hair donations will be weaved in special hair care centre in Beirut, Lebanon.
Related Articles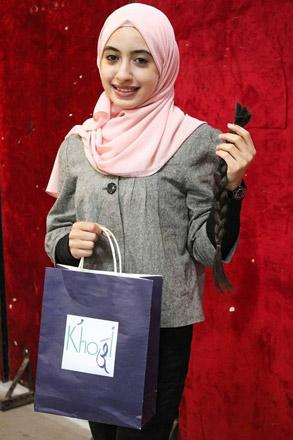 May 29,2017
AMMAN — Three young students have dedicated their time, money and effort for over a year to support women "cancer fighters" by giving them n
Oct 02,2017
AMMAN — After a successful battle against cancer, Suzan Murad decided to establish an association to support and advise cancer patients and
Nov 12,2015
AMMAN — When Jordanian barber Muath Qtaishat noticed that many boys in his southern village of Qadisiah could not afford a haircut, he decid
Newsletter
Get top stories and blog posts emailed to you each day.