You are here
Canadian scholars explore ancient Nabataean site of Hawara
By Saeb Rawashdeh - Jun 22,2017 - Last updated at Jun 22,2017
The rock-cut tombs in the necropolis west of Hawara are the only visible Nabataean structures at the site other than the rain-fed cisterns and the aqueduct that supplied the former way station, garrison and trading post with water from the surrounding mountains, according to Canadian scholar John P. Oleson (Photo courtesy of John P. Oleson)
AMMAN — The ancient Nabataean site of Hawara has been the focus of the research of two Canadian scholars.
The rock-cut tombs in the necropolis west of Hawara, modern Humayma, 280km south of Amman, are the only visible Nabataean structures at the site other than the rain-fed cisterns and the aqueduct that supplied the former way station, garrison and trading post with water from the surrounding mountains, according to John P. Oleson.
Oleson, from the University of Victoria in Canada, directed the Humayma Excavation Project between 1991 and 2005, using the American Centre of Oriental Research in Amman as his base.
Eleven more or less distinct clusters of tombs and four solitary tombs were mapped, drawn and catalogued — 94 individual tombs in all, he noted.
"All the tombs had been looted in antiquity, but scraps of the grave goods point to construction in the Nabataean period," Oleson continued, adding that all but one of these tombs were shaft graves intended for up to eight individuals. This simple design is common at Petra, Hegra and other Nabataean sites.
There seems to have been one prominent chamber tomb at the site, the scholar explained, but the façade has been lost to erosion.
"The elaborate tomb façades seen at Petra and Hegra were not copied at Hawara, probably for a variety of religious, social or economic reasons: perhaps the preference of elite families for habitation and/or burial at Petra, or the greater sacredness of that site," Oleson said.
He also noted that a military burial area some several hundred metres west of the Roman fort is indicated by inscriptions, incised crosses, the remains of pottery burned in funeral pyres, as well as magnetic gradiometry results.
"Finally, a large, vaulted late Nabataean tomb chamber, built of carefully cut blocks, 10km north of Hawara on the ancient King's Highway, should also be connected with this town, but was outside our excavation permit area," the expert concluded.
M. Barbara Reeves, a Canadian archaeologist from Queen's University in Canada, took over as director of the Humayma Excavation Project in 2008.
In 2012 she began studying Humayma's petroglyphs.
"Petroglyphs are images carved or abraded into rock surfaces, and they are common throughout the desert areas of Jordan, including Humayma. The subjects depicted, their location, frequency and chronology can provide interesting insights into the lives and religious beliefs of the ancient inhabitants of a region," Reeves emphasised.
According to Reeves, some petroglyphs on the ridges and hills west of Humayma's ancient town had been mentioned over the years by scholars focused on other research projects, but no concerted documentation of them had been attempted before 2014.
The incentive for that study was the discovery of a detailed petroglyph that Reeves subsequently interpreted as showing a Roman officer carrying out a religious ceremony at a location on one of Humayma's sandstone ridges.
"I returned in 2014 to survey the ridge associated with the petroglyph, along with some sites on the adjacent landmasses," Reeves said.
"During that survey, more than 150 petroglyphs, 20 inscriptions [Greek, Nabataean and Thamudic], 2 betyl niches and numerous recent Arabic inscriptions were documented in association with 15 human activity areas.
"The petroglyphs were carved into vertical and horizontal faces and on both natural and human-modified surfaces, showing wild and domesticated animals, hunting scenes, armed humans standing and riding, human worshippers, human footprints, gods, and symbols," she said.
Related Articles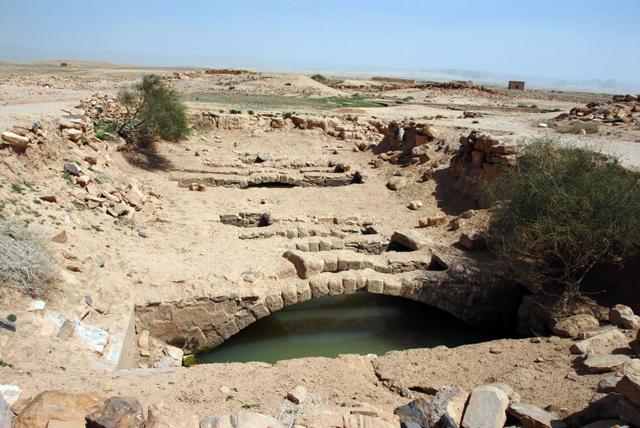 Apr 07,2017
AMMAN — Despite no "direct literary sources", a Canadian scholar is piecing together archaeological clues to the origins of the ancient sett
Aug 14,2019
AMMAN — The Nabataeans established a town at Humayma, some 240km south of Amman, in the first century BC, and the first phase of a shrine ex
Nov 30,2017
AMMAN — The preatorium, a commander's residence, in Humayma, 280km south of Amman, clearly demonstrates the luxury and the status the comman