You are here
Central bank projects in pipeline to support SMEs
By Mohammad Ghazal - Feb 23,2015 - Last updated at Feb 23,2015
AMMAN — The Central Bank of Jordan (CBJ) said Monday it was working on several fronts with various stakeholders to facilitate extending credit to small- and medium-sized enterprises (SMEs), which contribute some 40 per cent to the country's gross domestic product.
The CBJ will sign a $100 million loan agreement with the Arab Fund for Economic and Social Development in a few weeks to extend credit to SMEs via local banks, CBJ Deputy Governor Maher Sheikh Hasan told The Jordan Times following an event held by the Young Entrepreneurs Association and the Friedrich Naumann Foundation for Liberty on the bank's programmes for supporting SMEs.
"The total volume of credit available to SMEs at very low interest rates is between $400 million and $500 million thanks to several credit deals the Kingdom is signatory to," Hasan said, noting that SMEs represent 95 per cent of the country's companies and create 70 per cent of jobs in the Kingdom.
The CBJ has also approved the licensing of a private credit bureau, which will provide information about SMEs to banks, microfinance agencies and others to enable them to extend loans to SMEs, as the lack of information about these enterprises hampers extending credit to them, he said.
"SMEs are underserved and banks in Jordan can realise further growth by focusing on serving this important segment," Hasan said during the event, attended by several experts, supporters and decision makers in the field.
Noting that one of the main obstacles facing SMEs when seeking credit is a lack of awareness of their importance, he said the CBJ is working on training banks on the potential and significance of this sector.
Some banks established specialised departments to deal with SMEs, Hasan added.
Work is also under way to design a programme to upgrade school and university curricula to encourage entrepreneurship among students and motivate them to start their own businesses and start-ups.
"We are working on different levels to support SMEs in the Kingdom and will continue to do so," the CBJ official added.
Ulrich Wacker, director of the Friedrich Naumann Foundation's Amman office, highlighted the key role SMEs play in the national economy.
He said SMEs need easy access to financing to grow and develop their businesses.
Related Articles
Feb 25,2015
Jordan's banking sector is "highly liquid" but the private sector has to come up with bankable projects to ensure funding, Governor of the Central Bank of Jordan (CBJ) Ziad Fariz told businesspeople on Wednesday.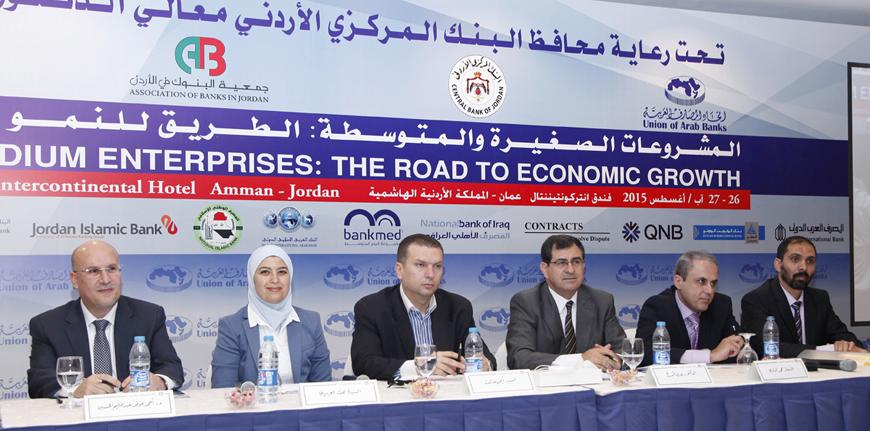 Aug 27,2015
AMMAN — About 60 per cent of banks present in Jordan operate departments specialised in financing small- and medium-sized enterprises (SMEs)
May 31,2016
AMMAN — Finance experts on Tuesday urged the Jordanian banking sector to further support small- and medium-size enterprises (SMEs), which la
Newsletter
Get top stories and blog posts emailed to you each day.