You are here
Children's book hopes to instill generosity
By Maram Kayed - Sep 08,2018 - Last updated at Sep 08,2018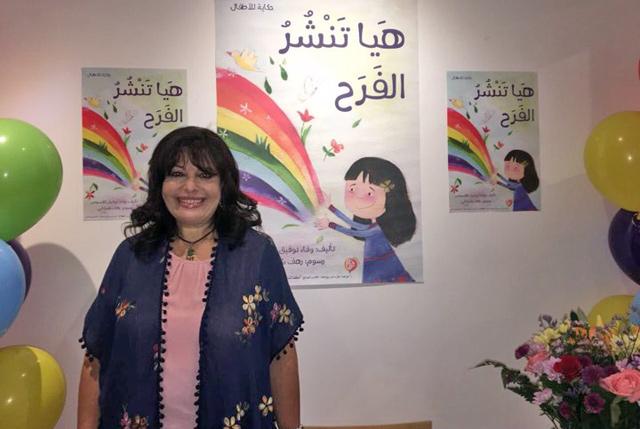 Jordanian writer Wafa Guessous poses for a photo at the book launch event in Amman, on Saturday (Photo by Maram Kayed)
AMMAN — Renowned Jordanian writer Wafa Guessous on Saturday launched her new book "Haya Spreads Joy", aiming to teach children the morals of helping others.
Following Haya, a young girl who helps an unfortunate family who just moved into her building, the book shows her encouraging her friends to do so as well.
"I believe that kids are the ones who can make a difference, that's why I think that they should be taught good values, such as those of helping people in need," Guessous told The Jordan Times at the launching event.
The effect of the book on the children was apparent, as demonstrated by Zein, a 7-year-old who said after reading the book "I really liked Haya, and how she helps everyone around her. I also liked how she made her friend Abbas do so too."
Yasmeen, her younger sister chimed in, "I want to be like Haya!"
Parents whose children were acquainted with the book reflected on the impact the story had on their children. "Guessous's previous books have taught our children morals and made them interact with their environment," they told The Jordan Times on Saturday.
"One of the things I really love about the books is that they come with games, puzzles, and a CD of songs. The kids love them and learn a lot from them," said Suhad Eteibi, a parent present at the launch event.
"I think that the books are a good way to let children have a good time without a destructive device such as the phone or the television. I personally love seeing my kid engage in something traditional and non-electronic," another parent commented.
Najda Guessous, the author's sister, told The Jordan Times that the reason these characters are relatable to children is "because they are based on Wafa's nephews and nieces".
"We are a big family of nine, so Wafaa has had a good chance to deal with kids and understand their mindset. Her first book was actually based on Zeina, her niece," she explained.
In line with the book's story, the charity spirit is conveyed with part of the book's sales proceeds going to a local NGO named "Our Children", which aims to pay for underprivileged children's surgeries.
One of Our Children's founders, Wafa Jarrar, expressed her gratitude to Guessous, noting that the event also gave Guessous's fans a chance to familiarise themselves with the charity's work.
Newsletter
Get top stories and blog posts emailed to you each day.