You are here
Children's safety amid COVID-19 pandemic adds to parents' back-to-school concerns
By Maram Kayed - Aug 10,2020 - Last updated at Aug 10,2020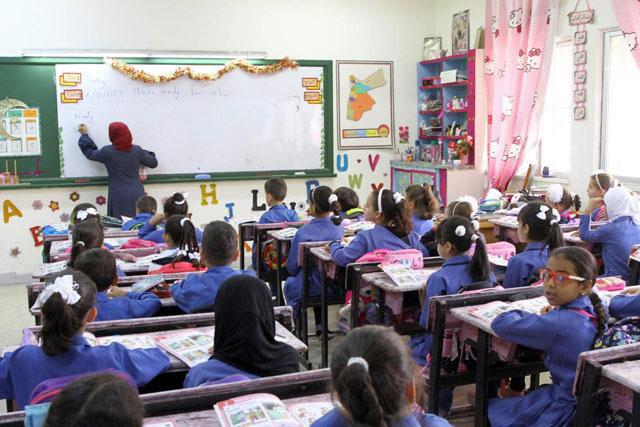 The 2020/2021 academic year will begin on September 1, according to Education Minister Tayseer Nueimi (JT file photo)
AMMAN — Parents have voiced their concern over the safety of their children once the new 2020/2021 academic school year starts amid the coronavirus pandemic.
Secretary General for Administrative Affairs in the Ministry of Education Najwa Qubeilat said in a radio interview on Monday that the new school year will start on time and that there will be no change in school hours.
She denied reports that the next school semester might be online, saying that "there is no truth behind rumours that there will be two online-learning days and three days in school".
Parents took to social media to express their concern over the implementation of physical distancing measures, particularly in government schools, where classes tend to be overcrowded.
"As happy as I am that my children will be going back to school, I'm worried that sending them back before the discovery of a vaccine will be risky, especially that they are children and may not understand the importance of following precautionary health procedures," said Ahlam Dajani, a mother of four who resides in Amman's Al Nuzha neighbourhood.
Dajani told The Jordan Times over the phone that she "knows for sure" that her son in the third grade won't refrain from playing with his friends at close quarters or put on a mask for a full day.
"There is also the issue of overcrowding in most government schools, which makes physical distancing impossible. My children go to two different schools and they are both overcrowded, with more than 30 children in one classroom," she added.
Qubeilat said that the ministry has discussed a set of health protocols inside schools with educational directors in each governorate, one of which was maintaining a one-metre distance between students.
She stressed that the ministry has "come up with a number of scenarios to deal with the problem of overcrowding in schools", among which was adopting the morning and evening classes.
Mahmoud Rbeihat, a father of two girls, said that the double-shift system "will not pan out well in areas with schools that already have a two-shift system."
Comment on Qubeilat's remarks, Rbeihat noted on a Facebook post that the school that his girls go to in Zarqa already has a two-shift system.
"What happens when you apply a two-shift system to a school that already has a two-shift system?" he asked.
Newsletter
Get top stories and blog posts emailed to you each day.