You are here
Chinese gov't grants Kingdom $750k in medical supplies for coronavirus response
By JT - May 31,2020 - Last updated at May 31,2020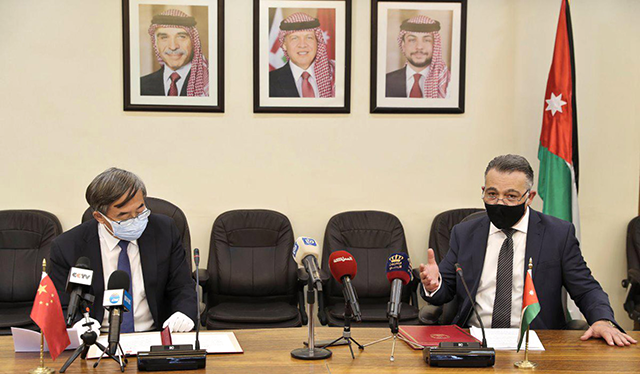 Minister of Planning and International Cooperation Wissam Rabadi (right) and Chinese Ambassador to Amman Pan Weifang sign an agreement providing Jordan with $750,000 in medical supplies from the Chinese government (Petra photo)
AMMAN — The Jordanian government on Sunday received $750,000 in medical supplies from the Chinese government in support of the Kingdom's anti-coronavirus efforts.
The agreement was signed by Minister of Planning and International Cooperation Wissam Rabadi and Chinese Ambassador to Amman Pan Weifang.
In a statement, the Planning Ministry said that the agreement comes within the framework of ongoing communication and coordination with donor and friendly countries and United Nations organisations to support government efforts to increase aid to combat the COVID-19 pandemic.
Rabadi commended the Chinese government's support and its provision of medical supplies to the Jordanian health sector, a contribution that the ministry said would strengthen Jordan's anti-virus efforts.
The minister stressed the role of the medical aid in implementing the World Health Organisation's protocol, which relies on increasing testing as a "successful strategy" to slow the spread of the virus, noting that the ministry will continue to communicate and coordinate with other countries and donors to provide further support to the Kingdom.
The aid package includes 10,000 medical protective coveralls, 60,000 masks, 10,000 pairs of protective glasses, 10,000 pairs of gloves, 200 infrared thermometers and 20,000 test strips.
Rabadi lauded the "distinguished" bilateral relations between Jordan and China, which are "cemented by the two countries' leaders", noting that China is an "important partner and supporter" of Jordan's development efforts, according to the statement.
China has contributed over past years to funding "many top-priority local development projects in several vital sectors", he said, in addition to providing devices and equipment for ministries and government institutions, including specialised security and civil defence equipment.
The Chinese ambassador hailed the wise leadership of His Majesty King Abdullah and the Jordanian government's response to the pandemic, the statement said.
Weifang also expressed his government's commitment to creating financial and technical support programmes in various fields of mutual interest to boost bilateral relations.
up
4 users have voted, including you.
Newsletter
Get top stories and blog posts emailed to you each day.