You are here
Climbing Everest with a disability: Young amputee proves 'nothing is impossible'
By Camille Dupire - Apr 18,2018 - Last updated at Apr 18,2018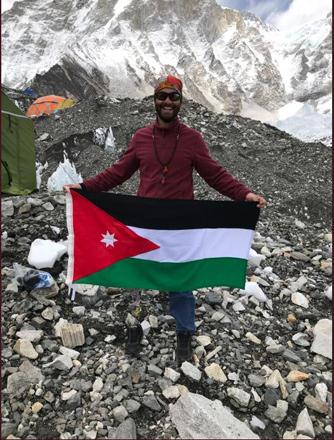 Twenty-year-old Jordanian Jarrah Al Hawamdeh holds the national banner at the Mount Everest base camp on Monday (Photo courtesy of Jarah Al Hawamdeh Twitter page)
AMMAN — After spending 11 days struggling in temperatures so freezing that he "could not feel his face", 22-year-old Jarrah Al Hawamdeh finally made it to the Everest base camp.
The young Jordanian, who lost his right leg to bone cancer at 15 years old, said his outstanding performance aims to "show people that nothing is impossible".
He took on the challenge of climbing 5,364 metres up the face of Mount Everest to raise money to save his former UNRWA school.
Located in east Amman, Al Jofeh Boys School is in danger of closing because of drastic funding cuts to the UN Relief and Works Agency for Palestine Refugees. With this new challenge, he expects to raise $1 million to keep the school open.
Despite the terrible weather conditions and his body being wracked with pain, the young man continued climbing. "We started with a group of 11 people, but nine of them had to be medevaced off the mountain after suffering breathing difficulties," Hawamdeh explained.
He is currently stranded at the base camp, following a huge snowstorm and nearby avalanches that saw temperatures drop to -30 degrees Celsius. Helicopters are on standby to take him and his fellow climber down from the camp, still unable to reach them, according to Natalie O'Brien, a friend of Hawamdeh.
"They may be stranded on the mountain for at least three days until the weather clears," she told The Jordan Times, adding that the Jordanian mountaineer is in good condition and that he is listening to the music of Palestinian rapper Tamer Nafar to keep his spirits up and drown out the sound of avalanches around him, according to his text messages.
"It is almost unbelievable the depth of his drive and determination," O'Brien commented, echoing the comments of Pasang, one of the Sherpas who helped him on his trek. "He is incredibly brave," he stated.
Hawamdeh recalled how he used to dream about his future as a mountaineer as he was undergoing cancer treatment at the King Hussein Cancer Centre.
"After they amputated my leg, I refused to let this ruin my life. I decided to turn my situation around, and I got certified as a climber," he recalled, noting that his amputation has become an strength rather than an impediment.
"Not everyone has one leg, and I am using my story to show the world that, even if you are facing problems, you can overcome them," the young man said.
This is not the first time the 22-year old makes history: A few years back, he climbed Mount Kilimanjaro with an artificial limb.
"For me, that was a first message of hope for cancer patients," he recalled. "I wanted to make a strong statement. To be a climber, you need to push yourself a lot. Not everybody can be a mountaineer. Let alone someone with one leg."
This determination has long been a defining feature of the young man's personality, who recalled how he used to try and attend school as often as he could, even while undergoing treatment.
Hawamdeh started his current climb, which is about 17,500 steps, on April 2 and is expected to return to Amman by the end of the month.
Donations to Hawamdeh's fundraising campaign for Al Jofeh school can be made at https://getinvolved.unrwausa.org/myfirststep.
Related Articles
May 21,2018
AMMAN — "After climbing Mount Everest, I feel that I had the power to do anything new for myself and for this world," recalled Jarrah Al Haw
Apr 25,2015
Climbers on the world's highest mountain pleaded for help on Saturday after a massive earthquake triggered an avalanche at Everest base camp, killing at least 10 people and sparking panic.
Sep 25,2014
Losing a leg was not a reason for 19-year-old Jarrah Hawamdeh to lose hope in his battle against cancer.
Newsletter
Get top stories and blog posts emailed to you each day.