You are here
Comedians see medium as way to point out social problems, bring people together
By Suzanna Goussous - Nov 01,2015 - Last updated at Nov 01,2015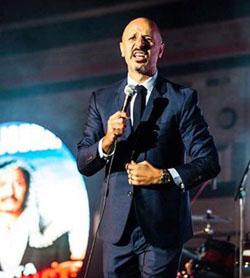 Comedian Maz Jobrani performs on stage at the Cultural Palace in Amman on Saturday (Photo courtesy of Bliss Radio 104.3/Anas Battah)
AMMAN — Comedians and artists joined forces at a show on Saturday titled "Blissteria", which aimed to spread positive feelings among Arab audiences and demonstrate comedy's importance in delivering social and political messages to the public.
Performers sought to "raise awareness" of issues that are usually "ignored" or "misunderstood" in society by presenting everyday problems in a comic way, according to the organisers of the event, which was arranged by Bliss Radio 104.3 and held at Amman's Cultural Palace.
Adi Khalefa, a Palestinian comedian, used his performance to mock the absurdities of life under the Israeli occupation, including the daily struggles of Palestinians trying to pass checkpoints and obtain rare and randomly provided access passes to religious sites.
He also talked about the difficulty of travelling as an Arab, especially after September 11.
"Because I'm an Arab, whenever I have a trip to the US, I book 15 days at the hotel and four at the airport," he joked, in reference to the lengthy airport security checks.
Wissam Tubeileh, a Jordanian actor and comedian, told The Jordan Times that comedians try to convey a message about "social issues that affect people in a negative way, like shooting guns during weddings".
Tubeileh said the social problems faced by Jordanians are obvious, but nobody talks about them, hence the valuable role of comedy in raising awareness.
"Comedy is a light-hearted thing, but you can convey strong messages using light comedy, especially on stage, because on stage you can say anything you want," he said.
For Maz Jobrani, an Iranian-American, comedy has been his way of questioning political and cultural norms.
As a Muslim of Middle Eastern descent and a father of two living in the US, Jobrani decided to incorporate commentary on race and religion into his comedy routines and try and spread a positive image of the region.
"I started doing comedy 17 years ago in Los Angeles. I tackled issues like racism and people took it very positively," the comedian told The Jordan Times.
Jobrani noted that although American audiences had not encountered comedy like this before, he felt that "we are all the same when it comes to political problems... a lot of people can relate to my comedy because they face similar issues."
He cited the generation gap as an example, and the distance between modern and traditional ways of raising children.
"So the modern way would be like: son, how do you feel about [hitting your sister]? What does she feel about it? What do you think we should do? So what do you think about the Chinese economic crisis?
"My dad would be like: I'm going to count to three, if you're not in by then you'll sleep outside with the wolves," he joked.
"I believe that laughing brings us together to also break some stereotypes — but we have to check first if we are guilty of them as well."
Related Articles
Aug 12,2014
Oscar-winning actor Robin Williams shot to fame for his madcap standup act and his offbeat alien Mork, but his most famous roles showed a depth of pain behind the comedian's mask.
May 30,2015
LOS ANGELES — In the early 1980s, when Steve Martin was a fledgling movie star, he recalls attending the American Film Institute's (AFI) cel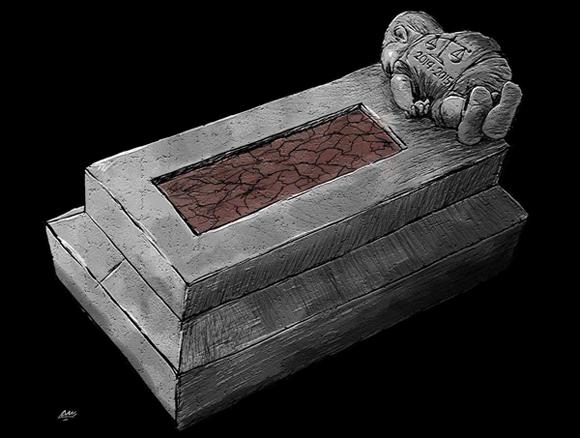 Sep 19,2015
AMMAN – Three Jordanian cartoonists are holding a joint exhibition to highlight the plight of Syrian refugees, especially those seeking have
Newsletter
Get top stories and blog posts emailed to you each day.