You are here
Congress approves 'unprecedented' assistance to Jordan — Wells
By JT - Jan 21,2016 - Last updated at Jan 21,2016
US Ambassador to Jordan Alice G. Wells meets with journalists and chief editors of dailies at her residence on Wednesday (Photo by Abdullah Ayoub)
AMMAN — The US Congress has approved extending "an unprecedented" $1.275 billion in assistance to Jordan in its 2016 budget bill, with ongoing efforts to increase this amount to a possible $1.6 billion, US ambassador Alice G. Wells said on Wednesday.
"Congress in December passed the budget for 2016 and it contains an unprecedented $1.275 billion for Jordan, which is an increase in economic assistance as well as security assistance and it includes an additional $100 million for water supply," the ambassador told journalists during a briefing at her residence in Amman.
The ambassador highlighted the closely-knit ties between the two countries and the bipartisan support that this "unique" relationship receives in Congress from Republicans and Democrats.
"His Majesty's visit [earlier this month] I think really demonstrates the strength and vitality of our bilateral relationship and underscores again that Jordan is one of our strongest allies in the region," Wells said.
"You see that we have hundreds of senior US visitors who come to Jordan every year but certainly the case is when the King goes to Washington, our senior executive branch members from the administration and members of Congress are very anxious to seek his counsel on events in the region and global warming," the envoy told the media representatives.
In terms of security assistance, she said, last year was a "landmark" that witnessed further security assistance to support the Jordan Armed Forces-Arab Army.
US economic aid to Jordan will continue, Wells said, to advance programmes that promote growth, generate jobs, provide young people with real-life work experiences and skills to enter the workforce, promote tourism, help develop the water and energy sectors and empower youth and women.
"The statistic that strikes me is that last year Jordanian exports to the United States increased by 9 per cent despite everything else that has happened and despite the overall decline in exports. That really is, again, a testimony to the Free Trade Agreement and the economic relationship built over the last 15 years," the diplomat added.
Anti-terror drive
With respect to regional issues, Wells pointed out the visit by US Gen. Lloyd Austin, commander of the US Central Command, and his meeting with the King and army chief Gen. Mashal Al Zaben (see separate story).
"Today I hosted Gen. Austin who is here to consult with Gen. Zaben as well as had the opportunity to meet with His Majesty."
Austin's message was "that we are making significant and tangible progress in defeating ISIS — defeating Daesh. Thanks to a holistic campaign, one that is pushing Daesh out of Syria and Iraq, Daesh has lost 40 per cent of the territory it used to control," the ambassador noted, adding that in addition to territory, the terrorist group has also lost supply routes to Tikrit, Baiji, Sinjar and "most importantly", Ramadi.
The US-led coalition targets Daesh's "financial infrastructure, even their banks, literally destroying their wealth, as well as targeting oil convoys and other elements of their oil infrastructure", Wells explained, noting that the coalition airstrikes have intensified across the board but in Syria they increased tenfold last year.
Outlining signs of the group's breakdown, Wells cited its diminishing ability to administer its territory, defections, increased in-fighting and Daesh's using its own brutality against its members.
"At the same time, the coalition is growing stronger, so the countries that supply troops have increased from 21 to 26 and countries like France and the UK have deployed additional assets in the battle."
On Jordan's contribution to the war, she said: "I can't overemphasise the importance of Jordan's role in the coalition as the most active coalition partner and leader, whose pilots have flown hundreds of sorties in both Syria and Iraq."
Asked to comment on accusations that the US is not serious about defeating Daesh, the envoy said: "America is very serious about defeating Daesh and I think you see that in the scope of the coalition that we have helped to form along with our Arab partners."
"From the very beginning I think we have been very sober in our assessment of how long this will take. The president described the war as at least three years to degrade and destroy Daesh. As we like to say, Daesh is not 10 feet tall; we will destroy them, but they are a skilled enemy," she said, stressing that the coalition tries to avoid civilian casualties, especially in Syria.
"In Iraq it has been more straightforward; there is the Peshmerga, there are the Iraq security forces, there are the Sunni tribes whose members are being trained and armed. Syria has always been more complicated".
Russian involvement
Wells said Russia needs to be part of the solution in Syria.
"We need Russia to be a constructive member of the Geneva process and just today Secretary [of State John] Kerry and [Russian] Foreign Minister Lavrov are meeting to discuss the way ahead to the session that will be hosted by the UN perhaps on the 25th, perhaps later."
However, the US is "very concerned why Russia's targeting the moderate opposition. If Russia had entered the conflict in Syria and focused its attention against Daesh and in restraining Bashar Assad from using air bombs and targeting Syrian civilians, all of us would have applauded".
Islamophobia
In an apparent reference to Republican contender for the presidential nomination Donald Trump's anti-Muslim remarks, the diplomat reiterated that the US "rejects hateful Islamophobic language".
"President Obama has said Islam is actually woven into the fabric of American society. And we believe that it is the responsibility of every American to reject discrimination and to rise above cynicism and even the fear that has emerged in the wave of the terrorist attacks that we have seen worldwide."
Related Articles
Feb 25,2016
AMMAN – His Majesty King Abdullah on Wednesday held a summit meeting with US President Barack Obama at the White House over the global effor
Feb 14,2018
AMMAN — Jordan and the US on Wednesday signed a memorandum of understanding (MoU) under which the US will provide Jordan with $6.375 billion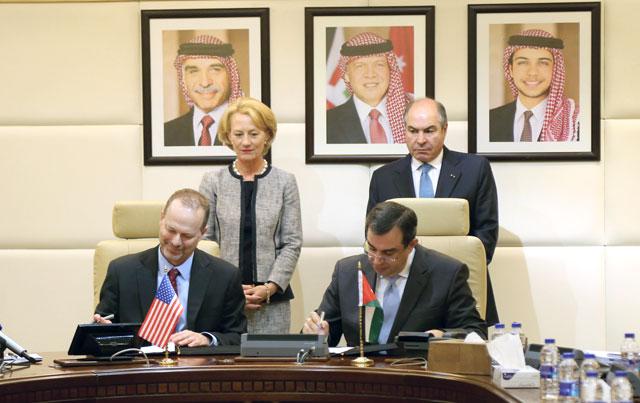 Oct 23,2016
AMMAN — Jordan and the US on Sunday signed four grant agreements worth $786.8 million under the US 2016 economic assistance package for Jord
Newsletter
Get top stories and blog posts emailed to you each day.