You are here
'Consumers bought bread for 25m people to prepare for cold weather'
By Suzanna Goussous - Jan 27,2016 - Last updated at Jan 27,2016
Students sort through collected bread to sell to fodder traders recently (Photo courtesy of Bread for Education)
AMMAN — Consumers bought around 80 million bread loaves before and during the snowstorm, a quantity "sufficient for 25 million people", but much of it is expected to go to waste, according to the Bakery Owners Association.
Association President Abdul Ilah Hamawi said on Wednesday that most of the consumers are expected to "throw away" the bread they bought, as the snowstorm was not as severe as expected.
Countering this phenomenon, the "Bread for Education" initiative, which started in 2013, aims at providing students at public schools with stationery, clothes, shoes, books and financial aid, using the money collected from selling leftover bread to fodder traders, said Abedal Rahman Zghoul, who launched the project.
His interests in the environmental and educational sectors were combined in an attempt to offer help indirectly to school and university students.
"We worked on generating a project that would provide income to the less-privileged students without them asking for help," Zghoul told The Jordan Times.
Over a period of six months, 24 neighbourhoods in three governorates received support by the initiative, he said.
Residents from targeted neighbourhoods are asked by volunteers to keep their leftover bread in a place where it will not decay, and volunteers pass by every Saturday to collect the bags.
The volunteers are trained to prevent the leftover bread from being exposed to water so that it does not decompose. Initiative members then contact fodder traders to take the bread in exchange for money.
"Students feel that they are contributing to something — transforming unutilised items to a source of income," Zghoul said.
He noted that bread is "thrown everywhere" and is a "symbol of decent living" that can be used to provide for the disadvantaged in different areas of the Kingdom.
The idea of "Bread for Education" originated from the local community, he said, "aiming to reinforce the traditions and values carried out by previous generations."
The project started in two schools at first, with 25 students and five teachers from each school participating as volunteers, he said, adding that the bread collected amounted to between 10 and 15kg.
Since its launch, "Bread for Education" has provided scholarships for around 365 students, with a total number of 20 schools around the Kingdom participating and benefiting from the money exchanged for extra bread.
Around 2,000 students have also benefited, with more than 250 teachers participating from schools around the country, the 26-year-old said, adding that the initiative targets students in Zarqa, Ajloun and Amman.
The group's main difficulty is transportation between villages and neighbourhoods, given that volunteers use bicycles to move about, which is more time-consuming, "especially in harsh weather conditions", he noted.
However, the group has been aided by contributors, who donated an amount of money that enabled the volunteers to buy their own machine to grind bread instead of sending it to a mill, according to Zghoul.
"Bread for Education started as a campaign, then became an initiative and is currently more like an organisation — thanks to the people who helped us," he said.
The initiative was recognised and awarded by many national and international organisations, including the 2015 Voluntary Work Award in Algeria and several entrepreneurship awards in the Kingdom.
Zghoul was also recognised as a youth ambassador by the Arab Thought Foundation in the UAE.
"The good thing about the initiative is that it has also expanded into neighbourhoods where Palestinian and Syrian refugees reside," he said, concluding that "education is a right for all".
Anyone interested in participating in the initiative can reach the founder and volunteers through their Facebook page "Bread for Education Initiative", or contact them directly at 0788047623 and 0799778199, or via e-mail: [email protected].
Related Articles
Jan 09,2018
AMMAN — The founder of the "Bread 4 Education" initiative Abdul Rahman Zghoul has received the Mohammed Bin Rashid Award for Young Business
Feb 17,2014
Abdul Rahman Zghoul, a schoolteacher, is aware that giving bread to the needy has a deeper meaning in a community where bread is the staple food and a symbol of sufficiency, when available.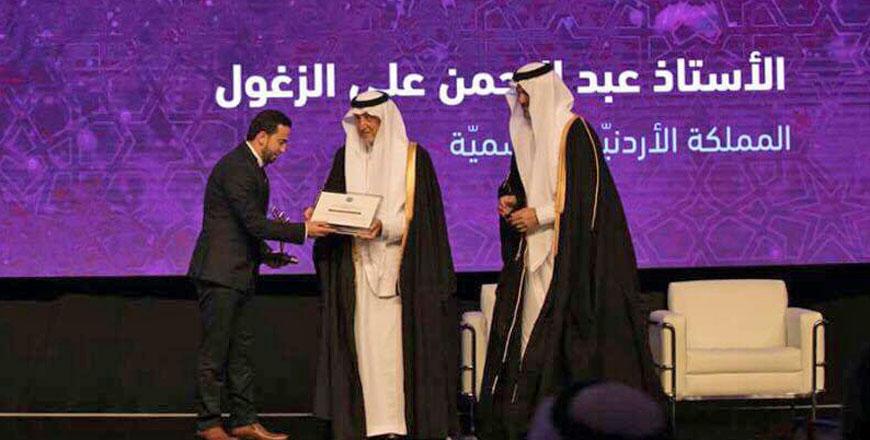 Dec 20,2016
AMMAN — Six Jordanians from different sectors have recently received awards in the UAE for achievements in entrepreneurship, education and c