You are here
Contemporary art celebrated at int'l cultural festival
By Camille Dupire - Jul 01,2018 - Last updated at Jul 01,2018
The 'In the Margin' festival will run through September 1st at the National Gallery of Fine Arts (Photo by Camille Dupire)
AMMAN — An international festival of contemporary creation is stimulating the senses of the local audience, through a weeklong programme of cultural, environmental and artistic projects held at the Jordan National Gallery of Fine Arts in Amman.
Launched on June 27 with a variety of performances by local and international talents, "In the Margin" festival combines the various fields of contemporary cultural, environmental and social initiatives, alongside art shows including dance, music, plastic and visual arts, cinema, architecture, design, literature, comics and graffiti, among others.
Scheduled until September 1, the international event also marked the official launch of FACTORY, an open platform on contemporary art, innovation and research established by the Jordan National Gallery of Fine Arts under the direction of curator Rocio Villalonga.
"FACTORY was born to go beyond the walls of the museum and find ways of initiating dialogue and actively participate in the community," said the event's curator, adding: "We believe that collective efforts can construct and alter realities by asking questions and responding to our challenges from a creative and a critical standpoint".
Aiming to "Support, activate and promote creative projects", FACTORY brings together cultural and social advocates, artists, producers, directors, associations and citizens, to enhance the production of collaborative and participatory social, artistic, technological and environmental projects to nurture the community, Villalonga told The Jordan Times.
The international festival kicked off on Wednesday evening with a drumming circle by DrumJam Jo, which awakened the moods of the crowds of visitors and curious passerby.
Conducted by Bashar Khries, the percussion show was followed by an interactive dance improvisation session conceptualised and directed by Ryuji Yamaguchi.
Interrogating the viewers' perception of movement and space exploration, a group of local dancers and artists converged into a harmonious flowing chaos reflecting the beauty of dance and spontaneity.
The launching event concluded with a public concert by the Falak music band, a group of young musicians from the Amman National School mentored and directed by Odai Shawagfeh.
Alongside these performances, visitors also got the chance to explore the diverse number of artworks exhibited on the four floors of the gallery, diving into a collaborative world of creation and innovation.
Paintings, visual and audio installations fashion creations covered the walls of the national gallery, which attracted large numbers of art enthusiasts and neophytes alike.
"In this festival, we seek new readings and complex interpretations, disobeying the canons. It is a crossing that seeks to break the fragmentation of knowledge and to expand it," Villalonga explained, adding "we aim to extend the disciplines and the topics, achieving connections with other disciplines or with different perspectives, mixing and merging them".
Among the participants in the exhibition, Laila Eltaweel displayed an interactive video installation, which took the visitor to the heart of experimental contemporary art.
Sitting on a chair at a certain distance from a mirror, the participant is given the illusion that his mind is being emptied and refilled by projector illuminating tubes going out of their head.
"Since I got a projector, I never stopped experimenting with it, trying out new things that popped inside my head. With this exhibition, I got the chance to create something that both triggers and elates people's minds," Eltaweel told The Jordan Times, as she collected each participant's feedback on their experience.
The young woman, who is still pursuing her studies at university, was among the many promising talents invited to participate in the festival, like 25 year-old Wael Joudeh and Fadi Zumot, 24, who collaborated on a mixed media piece exploring the idea of target.
"'AIM' is a social commentary on the use of weapons and their normalisation in the human psyche, particularly in youth culture, where we see violence, aggression, war and death repeated constantly through video games, on our social media feeds, in news stories, cultural occasions and in children's games," Joudeh and Zumot told The Jordan Times, stressing "a collection like AIM catalySes a shift in the fashion culture to stop reproducing its typical self and wake up to a socially-conscious reality. Increasingly, the young generation is demanding to live in a society in which life is valued, not feasted upon".
Related Articles
Dec 01,2023
AMMAN — The Embassy of India, in association with Janaritta Armooti Gallery, Amman organised on Thursday an International Art Competition Ar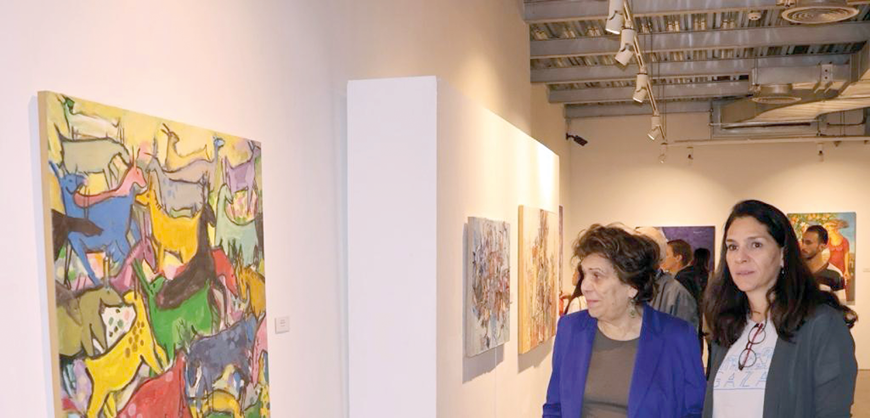 Nov 11,2023
AMMAN — In solidarity with the people of Gaza and Palestine the Jordan National Gallery of Fine Arts organised an event on November 5, that
Apr 04,2023
AMMAN — Two generations of Arab artists are celebrating Arabic calligraphy, through 25 paintings, featuring both classical patterns and cont