You are here
Creative diversity denies intellectual terrorism, says Prince Hassan
By Dana Al Emam - May 23,2016 - Last updated at May 23,2016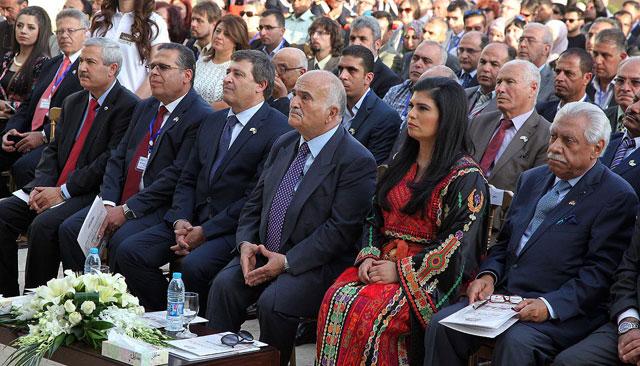 Their Royal Highnesses Prince Hassan and Princess Sumaya attend 13th International Conference on the History and Archaeology of Jordan in Amman on Saturday (Petra photo)
AMMAN — HRH Prince Hassan on Saturday called on archaeologists to take on 10 principles that would help in the progressive mapping and preserving of historical treasures in the Middle East and North Africa.
Addressing participants in the 13th International Conference on the History and Archaeology of Jordan Saturday evening, Prince Hassan cited national achievements in the region, adding that archaeological and cultural scholarships should begin to develop a regional heritage identity.
He noted that the region is known among historians as "the cradle of civilisation", adding that intellectual history, science, literature, religion and creative spiritual and cultural norms flourished in the Levant and ancient Mesopotamia (the area of the Tigris–Euphrates River) and directly influenced the enlightenment movement in Europe.
"It is here that man learned to live in cities, how to interact with a code of law and how to write epics, not to mention the pioneering invention of the 360 degree circle," he said, reiterating his belief in the existence of a single civilisation and thousands of cultures.
Prince Hassan also emphasised the right to protect cultural diversity and heritage as a cultural and humanitarian right, and a right of future generations.
"When culture is an expression of creative diversity, it becomes the enemy of those who seek to impose a single world view, because culture is based on the respect for the other and diversity denies such intellectual terrorism," he said.
As Jordan is celebrating the 100th anniversary of the Great Arab Revolt and the Kingdom's 70th Independence Day in the coming days, Vice President of the Jordan Museum's Boards of Trustees HRH Princess Sumaya called on Jordanians to reflect on their understanding of distant and recent history and how it shapes their lives and aspirations.
"These great events drew on the power of ideas and the understanding of context that flowed from the [Arab] renaissance and from a deep love from the landscape and environment," she said, commending the contributions of great minds that represent the true revolution of thought and ideas throughout history.
These parts of the Arab history, the princess said, is a reminder that stagnation is the enemy of progress and that Islam indeed will not support it, urging Jordanians to "debate and meditate" over the rise and fall of earlier communities and to develop methodologies to learn what caused their rise and fall.
Princess Sumaya, who is also the president of the Royal Scientific Society and the chairperson of the Princess Sumaya University for Technology's (PSUT) board of trustees, cited "vital links" between archaeology, culture, science and education, a matter that all these bodies collaborate to achieve.
Department of Antiquities (DoA) Director General Munther Jamhawi highlighted the theme of the conference "Ethics in Archaeology" as a central issue in the field, noting that demolition, illegal excavations, vandalism and illegal trading are key violations against archaeological sites in Jordan.
Commending the contributions of foreign archaeologists working on excavations in the country since 1883, he said that a total of 190 field experts from 23 countries are participating in the conference, which features 39 sessions, three workshops and an exhibition and concludes on Thursday.
Related Articles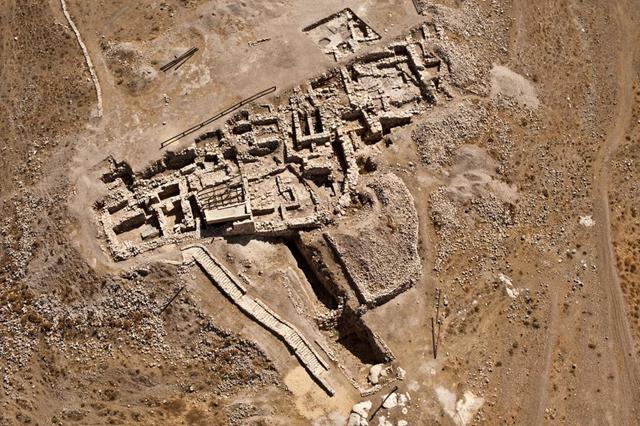 Jan 29,2014
Landowners on Tuesday offered to donate portions of their private land, located on an archaeological site dating back 5,000 years, to help preserve it from a sprawling Amman.
Jul 25,2017
AMMAN ­­— The Friends of Archaeology and Heritage (FoAH) was founded in 1957 by a small group of Jordanian and non-Jordanian archaeo
Jun 03,2014
HRH Prince Hassan has called for a new interdisciplinary and cross-regional approach to preserve the world's most ancient sites like Petra, Ain Ghazal, Um Al Jimal and many others.
Newsletter
Get top stories and blog posts emailed to you each day.