You are here
Crown Prince pays visit to Al Hussein Technical University
HRH familiarised with programmes, facilities
By JT - Jan 22,2018 - Last updated at Jan 22,2018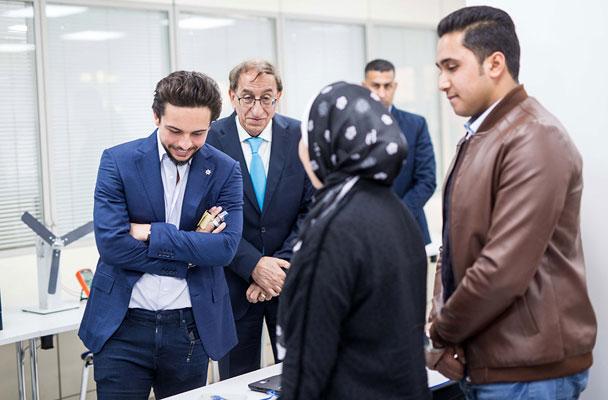 HRH Crown Prince Hussein checks on progress in programmes implemented by Al Hussein Technical University in Amman on Monday (Photo courtesy of Royal Court)
AMMAN — HRH Crown Prince Hussein on Monday visited Al Hussein Technical University (HTU) and had a firsthand look at its academic programmes and engineering laboratories.
HTU last year welcomed the first batch of students enrolled in engineering and computer majors.
Prince Hussein listened to a presentation by HTU President Labib Khadra on the university's programmes and syllabuses, according to a Royal Court statement.
Khadra noted that the university enjoys flexibility in its educational system and dynamic syllabuses that are devised to meet the changing requirements of local and foreign labour markets.
The president noted that the university offers three programmes: The first ends with an intermediate college degree of 72 accredited hours and can be completed in one academic year. The second offer an intermediate college degree that needs two academic years to be completed, while a third year is dedicated for training in factories, in addition to the third programme, the regular university degree.
He added that the university adopts an educational system that ensures students an opportunity for practical training from the first day.
The Crown Prince watched a short film that showcased phases of establishing the university, which was established by the Crown Prince Foundation (CPF) in 2016 as the most modern Jordanian technical university.
The facility is considered a "real supporter" of education in the fields of science, technology, engineering and mathematics, aimed at producing a generation with excellent knowledge and high level of proficiency in these fields.
The Crown Prince also had a firsthand look at engineering projects under implementation by students, including wireless robots, solar cells tracking systems, high-tech building lighting systems, IR communications and patent tracking.
Prince Hussein also toured university laboratories and attended a lecture on vocational and soft skills, and listened to a briefing by Khadra on virtual reality and augmented reality laboratories that have been established by the King Abdullah II Design and Development Bureau (KADDB).
He also listened to a presentation on Fab Lab, which is a CPF initiative that is being established to be an ideal centre for local and foreign innovators to exchange expertise and ideas in advanced digital production methods.
The Prince visited the university's nine engineering workshops equipped with up-to-date equipment and machinery used.
In an interview with the Jordan News Agency, Petra, Khadra said that students receive 10 hours of intensive English language course every week, and communication skills courses.
As for helping graduates to secure jobs after graduation, the president noted that the university had contacted various economic sectors and signed agreements with companies in the ICT, water, environment, energy and industrial sectors to guarantee that the alumni find jobs quickly.
As for student admission, he said that students apply directly to the university, where those with averages over 80 per cent in the General Secondary Education Certificate Examination (Tawjihi) can apply for the bachelor's degree, while students with lower averages can apply for the intermediate college degree.
Related Articles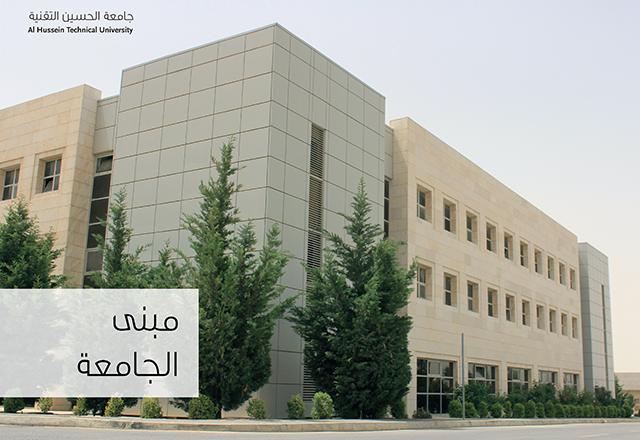 May 27,2017
AMMAN — The newly established Al Hussein Technical University (HTU) seeks to enhance the employability of graduates through study plans, whi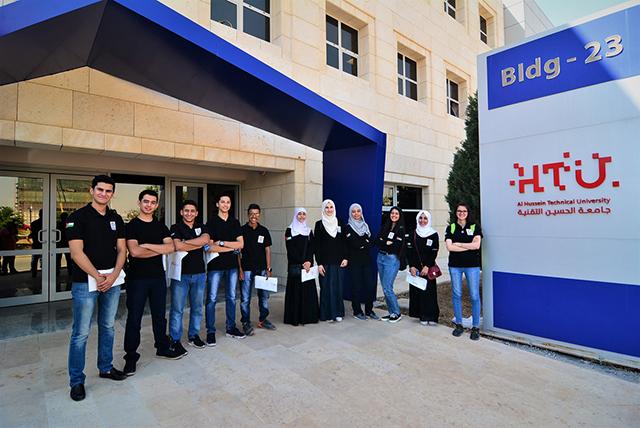 Sep 19,2017
AMMAN – Al Hussein Technical University (HTU) on Monday organised an open day event on Monday for the youth of Haqiq, a Crown Prince Foundat
Oct 15,2017
AMMAN — Al Hussein Technical University (HTU), which was established by the Crown Prince Foundation, on Sunday received the first batch of s
Newsletter
Get top stories and blog posts emailed to you each day.