You are here
Crown Prince urges holistic youth strategy
His Highness calls for effective public-private partnership to empower younger generation
By JT - Oct 04,2017 - Last updated at Oct 04,2017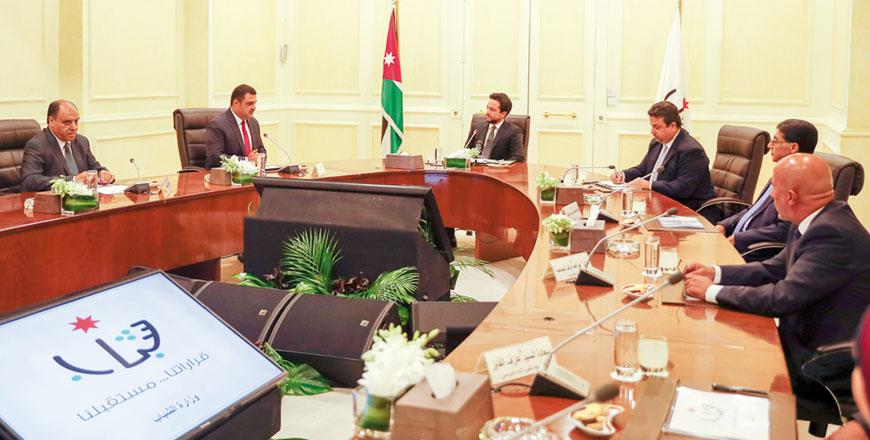 HRH Crown Prince Hussein meets with youth officials in Amman on Tuesday (Photo courtesy of Royal Court)
AMMAN — HRH Crown Prince Hussein on Tuesday stressed the importance of developing a holistic strategy for youth to be implemented within a fixed timeframe, a Royal Court statement said.
During a visit to the Youth Ministry, the Crown Prince also stressed the need for "unconventional" training and development programmes at all youth centres across the Kingdom, as well as evaluating performance and achievement of such programmes every two months.
His Royal Highness highlighted the importance of partnership between the public and the private sectors to support youth initiatives, which, he said, contribute to the empowerment of youth, stimulate creativity and lead to better investment of young people's potentials and the activation of their role in the comprehensive development process.
During the visit, Youth Minister Hadithah Khreisha briefed the Crown Prince on the progress made in the drafting of the National Strategy for Youth 2018-2025, expected to be completed by the end of this year.
Khreisha said that the ministry has formed consultative and technical committees with members from ministries, local community and relevant institutions.
The minister noted that young people were also involved in drawing up the strategy, as 60,000 young men and women have responded to a questionnaire that targeted the age categories of 12-18 and 19-30.
The questionnaire focused on the needs and ambitions of young people, according to the minister.
Khreisha expressed the Jordanian youth's pride of the prince's recent speech that he delivered at the UN General Assembly meeting, which reflected the ambitions and concerns of youth.
The minister outlined the ministry's programmes and activities concerning the youth centres it oversees across the Kingdom.
He also noted the ministry's efforts to build youth potentials and pioneering skills.
The briefing also included the ministry's programmes to protect young people from extreme ideologies and drugs.
Related Articles
Feb 21,2018
AMMAN — Jordanian youth should raise their voices and speak loudly to advocate for their rights, a top UN official said on Tuesday.Constanza
May 25,2017
AMMAN — Stakeholders on Wednesday highlighted the role of the participatory approach adopted in drafting the National Youth Empowerment Stra
Jul 20,2017
AMMAN — Deputising for HRH Crown Prince Hussein, Minister of Youth Hadithah Khreisha on Tuesday inaugurated the 2017 Al Hussein Camps in Pri
Newsletter
Get top stories and blog posts emailed to you each day.