You are here
Customs director put to retirement following fatal fire
By JT - Oct 29,2015 - Last updated at Oct 29,2015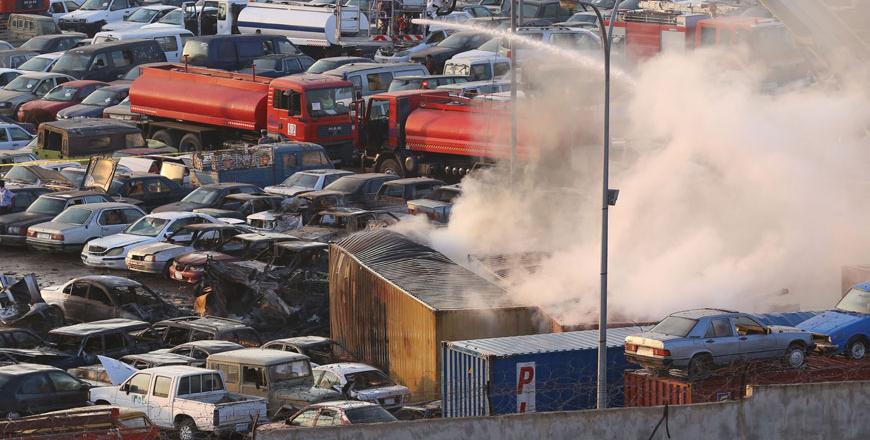 Fire engines are seen extinguishing the fire that erupted as a result of a fireworks explosion at an Amman Customs yard in south Amman on Monday (Photo by Raad Adaileh)
AMMAN — The Council of Ministers on Thursday decided to refer Jordan Customs Department Director General Munther Assaf to retirement.
The decision will go into force as of October 30, according to the Jordan News Agency, Petra.
On Wednesday, Energy and Mineral Resources Minister and acting Finance Minister Ibrahim Saif said the government takes full responsibility for the fire which occurred at an Amman Customs yard on Monday, describing it as a "grave mistake".
The minister made the remark at a meeting with the Lower House Integrity Committee, stressing that the government should take full responsibility for the tragic incident.
The fire erupted at one of the Amman Customs Department's yards on October 26 after two fireworks containers exploded.
All casualties were workers at the yard from Jordan and Egypt.
During Wednesday's meeting, Integrity Committee Chairperson MP Mustafa Rawashdeh stressed that the government should take full responsibility for what happened and take action to prevent the reoccurrence of such incidents, describing the regulations banning the import of fireworks as inadequate.
Other MPs called for the resignation of the government and the officials in charge, including Assaf.
The government pledged to work to rectify related legislation to avert such incidents in the future, adding that it would move Amman customs premises to another site far from the city.
Related Articles
Nov 12,2015
AMMAN — The Cabinet has issued directives to Finance Minister Omar Malhas to amend the Customs Law, allowing the confiscation or destruction
Oct 28,2015
AMMAN — The Lower House Integrity Committee on Wednesday held the government accountable for the fire incident that occurred at Jordan Custo
Oct 27,2015
AMMAN — The death toll from the "huge" fire at the Jordan Customs Department (JCD) yards in the Abu Alanda area, southern Amman, was decreas
Newsletter
Get top stories and blog posts emailed to you each day.