You are here
Dead Sea, Aqaba hotels packed during Eid Al Fitr holiday
By Suzanna Goussous - Jul 10,2016 - Last updated at Jul 10,2016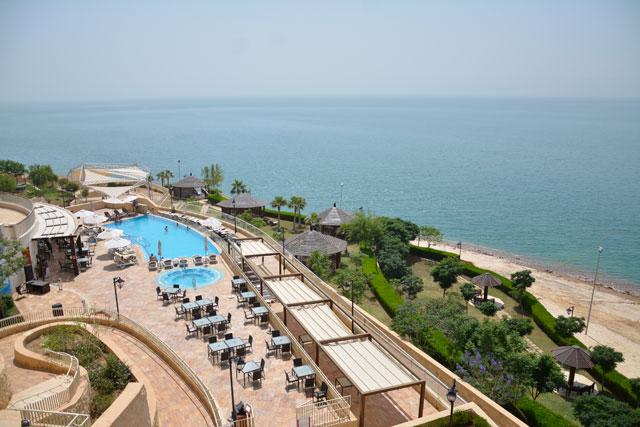 Hotel occupancy at Dead Sea hotels were reported at around 100 per cent during Eid Al Fitr holiday (Photo by Amjad Ghsoun)
AMMAN — Hotels in coastal resorts were full during Eid Al Fitr as many Jordanians chose to spend the holiday in the Kingdom and tourists flocked from abroad, officials said on Sunday.
In Aqaba, occupancy rates were over 85 per cent at three-star hotels and above, and most visitors were Jordanians said Sharhabeel Madi, commissioner for economic development and investment affairs at the Aqaba Special Economic Zone Authority (ASEZA).
"This Eid, many tourists from Saudi Arabia, Lebanon and Palestine's West Bank chose Aqaba and the Dead Sea as their destinations," Madi told The Jordan Times.
Many tourists from Gulf countries choose to spend their summer vacation in Jordan, Madi said, adding that visitors enter through the Dirra Crossing on the Saudi border "with no restrictions" and are provided with all necessary services.
Tourists from Palestine and Europe pass through the Wadi Araba crossing to visit Jordan, the ASEZA official added.
Salah Bitar, president of the Aqaba Hotels Association, added this is the time of the year for domestic tourism, but the number of Jordanian visitors during Eid Al Fitr did not meet expectations.
"Rooms at three-star hotels in Aqaba were priced at JD60 to JD80, with a maximum price of JD100, while room rates at five-star hotels ranged between JD200 and JD220. The number of Jordanians visiting Aqaba should have been much higher," he told The Jordan Times.
Bitar added: "Many Jordanians still chose to travel to Istanbul despite the instability in the country, although the prices were much lower in Jordan."
At the Dead Sea, hotel occupancy rates reached nearly 100 per cent during Eid, said Dead Sea Hotel Association Director General Reda Hashem, adding that 95 per cent of the guests were Jordanians.
There are nine hotels at the Dead Sea with a total of around 2,800 rooms, according to Hamzah Haj Hassan, director general of the Jordan Development Zones.
"Tourism during the holiday recorded high numbers, especially for domestic trips," Hashem said, adding that tourism rates were in the "normal range" for this time of year.
The official said five-star hotels at the Dead Sea charged between JD188 to JD300 during the holiday.
"It depends on the season and the demand. During Eid, the demand for hotels increased and so did the prices of the rooms," Hashem said.