You are here
Dead Sea minerals gold for Jordan — conference
By JT - Sep 11,2019 - Last updated at Sep 12,2019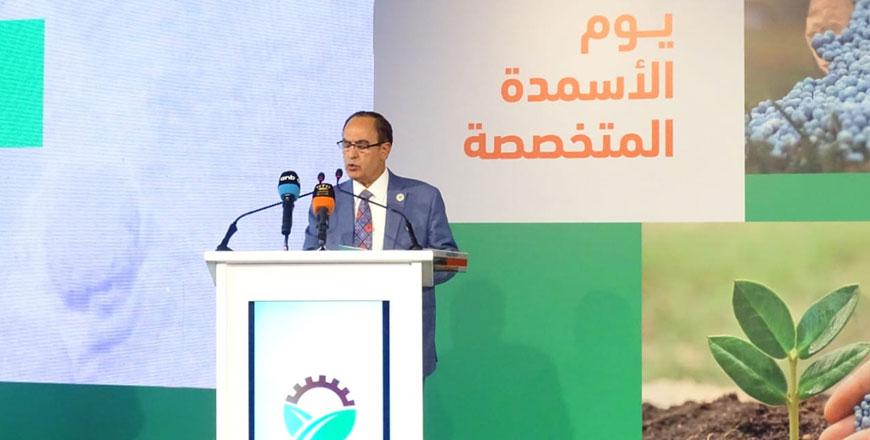 Arab Potash Company Chairman of the Board of Directors Jamal Sarayrah speaks during the 'Specialty Fertiliser Day' on Wednesday (Petra photo)
AMMAN — Succeeding in putting Jordan on the world map through establishing a prime position in the global fertiliser market, the Arab Potash Company (APC) has commenced production of the necessary raw materials to meet the developments in protected agriculture technologies, APC's Chairman of the Board of Directors Jamal Sarayrah said on Wednesday.
Sarayrah said that the APC's new production approach will contribute immensely to ensuring sustainable sourcing of global agricultural raw materials and coping with the changes in food consumption patterns.
Opening the APC's "Specialty Fertiliser Day", Sarayrah explained that Jordan's leading mining company is always updating its methods and diversifying its products to meet the latest global fertiliser production trends.
Keeping pace with the latest technologies in fertiliser production and in response to modern agricultural practices, the chairman explained that the APC will apply new feasible methods to achieve three objectives: Diversifying the company's products and increasing its revenues, providing high quality inputs for local and regional small- and medium-sized industries and contributing to environmental sustainability and resource efficiency.
For his part, APC President and CEO Maen Nsour said that the company always seeks excellence not only in its contributions to the national economy but also in its diversified products and continuous search for new advancements and technologies.
Nsour added that the APC and its affiliated companies (the Jordan-Bromine Company and KEMAPCO) have achieved record-breaking sales and production volumes unprecedented in the history of the company.
He noted that the APC's net profits during the first six months of 2019 increased by 48 per cent with a 113-per cent growth in operating profits while the net profits of its affiliated companies have also increased by 135 per cent during the same period.
The CEO also said that the company has set the budget for the feasibility studies on the best utilisation of the "treasures" of the Dead Sea.
The APC has announced that its net profit after taxes, provisions and royalties amounted to JD78.2 million during the first six months of 2019, recording an increase of 48 per cent from the JD52.7 million profits achieved during the same period last year.
The company also said that it has produced a historical record of 1.28 million tonnes of potash during the first half of 2019 compared with 1.21 million tonnes produced during the same period in 2018, while sales during this period also reached a record high of 1.24 million tonnes — an increase of 3.6 per cent over the same period last year.
Moderating the international conference, which saw the participation of scientists and experts in fertilisers from Jordan, China, France, Belgium and Pakistan, professor Sultan Abu Orabi, from Yarmouk University, said: "The Dead Sea is alive and is abounding with minerals that are gold for Jordan and that need to be fully utilised."
Newsletter
Get top stories and blog posts emailed to you each day.