You are here
Defying odds, youth with visual impairment wins Aqaba marathon
By Maram Kayed - Dec 12,2019 - Last updated at Dec 12,2019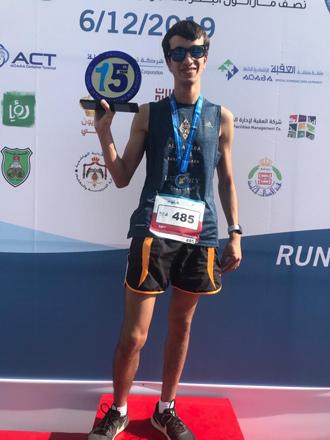 Hasan Tayem poses with his trophy after finishing first in the Ayla Red Sea Half Marathon (Photo courtesy of Hasan Tayem)
AMMAN — Hasan Tayem, a 22-year-old professional runner with a visual impairment, recently finished first in the Ayla Red Sea Half Marathon, one of the many long-distance races he has participated in and won.
A graduate from the University of Jordan in Italian and English, Tayem finished his education this year, and is vying a professional career as an athlete.
"This is my passion, and I have trained really hard to become a professional," he told The Jordan Times on Thursday.
Tayem discovered his passion for running in the seventh grade, and then took it up professionally three years ago when he learned about the renowned visually impaired runner and trainer Suheil Nashash.
Tayem is also a volunteer with UNICEF and Generation for Peace, and is hoping to "prove that people with disabilities are a productive part of society".
Tayem is hoping to test the boundaries by participating in longer-distance competitions such as this year's 42-km marathon in Lebanon, where he finished second.
In these marathons, Tayem noted that people with disabilities run the course set for everyone, and are awarded in a separate ceremony at the end.
"I'm working very hard to prove that a disability is unique. Every person has a unique trait, and God has chosen this for me. It is an ability, not a disability," he concluded.
Newsletter
Get top stories and blog posts emailed to you each day.