You are here
Diplomatic Bazaar brings 52 nations together in Amman
Participating embassies showcase finest products from their countries
By Laila Azzeh - Oct 29,2016 - Last updated at Oct 29,2016
HRH Princess Basma attends a performance held as part of the 52nd Diplomatic Bazaar at Al Hussein Youth City in Amman on Saturday (Photo by Osama Aqarbeh)
AMMAN — Culture, heritage and arts are doing what politics fail to achieve — bringing world countries together side-by-side under one roof.
Fifty-two embassies in Amman convened on Saturday at the 52nd Diplomatic Bazaar, an annual event that has become one of the most popular events in Jordan.
Celebrating multiculturalism for a good cause, the proceeds of the one-day diplomatic market support Mabarrat Um Al Hussein, a home for orphaned and underprivileged boys established in 1958 by the late Queen Zein Al Sharaf to improve orphans' living conditions.
Commending diplomatic missions' "steadfast" commitment to supporting the mabarrat for around five decades, HRH Princess Basma noted that the bazaar demonstrates "the very best of shared values and humanitarian service".
"The bazaar manifests the concept of social responsibility that these missions are committed to translating," said the princess.
Addressing the opening ceremony on behalf of the diplomatic missions, Ukrainian Ambassador to Jordan Sergiy Pasko noted that the "long established custom" is an opportunity for the "celebration of the warmth of our souls, diverse ideas, culture and traditions, which will attract thousands of visitors".
Each of the embassies taking part in the event showcased the finest products from their countries, depicting a rare scene of the world coming together for a united cause.
The richness of Iraqi heritage was demonstrated in its pavilion, which included a wide variety of items reflecting Iraq's diverse culture.
"It only took us one month to prepare for this event, but we managed to bring a lot of stuff here," said Ikhlas Rawi from the Iraqi embassy.
"I love this bazaar because it allows us to get to know people from other countries away from politics,'' she told The Jordan Times.
Laila Shareef, wife of the Sudanese ambassador to Jordan, agreed, adding that showcasing each country's products also helps businesspeople promote their goods.
"The Arabic gum continues to be the favourite product for people who come to the bazaar," she said.
For the second year, the Italian embassy in Jordan has been cooperating with a society for people with disabilities to display their items at the bazaar.
"In addition to the traditional Italian products, we are also selling handicrafts made by people with special needs from Sermig-Arsenale dell'Incontro society in Madaba, home to more than 200 people with mild to moderate disabilities," said Vicken Shukria, a volunteer at the facility.
Princess Basma, along with ambassadors and visitors, toured the bazaar's stalls at Al Hussein Youth City in Amman.
Related Articles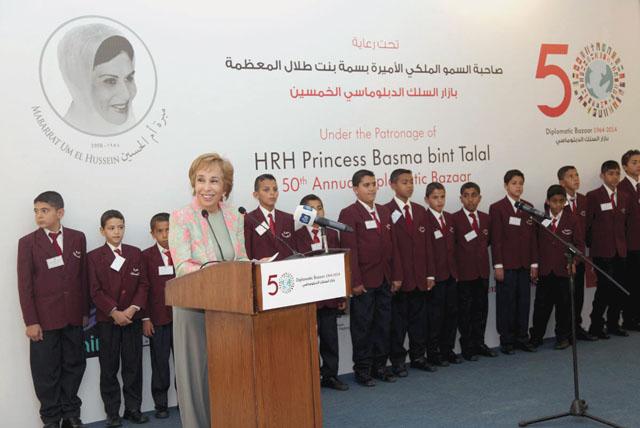 Oct 18,2014
The annual Diplomatic Bazaar celebrated its 50th anniversary on Saturday, highlighting a success story of combining culture with charity and fun for a great cause.
Oct 08,2017
AMMAN — HRH Princess Basma on Saturday opened the 53rd Annual Diplomatic Bazaar, where 51 embassies convened bringing their culture, arts an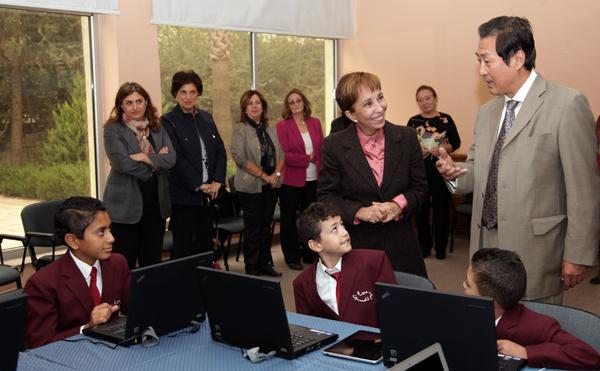 Nov 07,2015
AMMAN — Chinese Ambassador to Jordan Gao Yusheng, in the presence of HRH Princess Basma, on Saturday presented laptops and tablet computers
Newsletter
Get top stories and blog posts emailed to you each day.