You are here
Diplomatic, economic isolation of Israel 'only solution' as Tel Aviv stands intransigent — analysts
By Saeb Rawashdeh - Jan 18,2015 - Last updated at Jan 18,2015
AMMAN — As the joint Jordanian-Palestinian bid at the UN Security Council on December 30 calling for the end of Israeli occupation in three years failed, and the Palestinian Authority (PA) moved forward with joining the International Criminal Court (ICC), requesting the launch of an inquiry into possible war crimes in the Palestinian territories, analysts say the solution to the conflict on the long run is a diplomatic and economic isolation of Israel.
Although the resolution would have been definitely vetoed by the US at the Security Council, analysts say the symbolic win at the UN would have had a political implication of some kind.
Ali Abu Nimah, co-founder of Electronic Intifada and Arab-American journalist, holds the view that the failed effort actually helped protect basic Palestinian rights that were neglected by the resolution, with the aim of appeasing the US to avoid its veto.
"I am very happy from the perspective of Palestinian rights that this resolution did not pass. As I wrote elsewhere, if the resolution passed it would have been a disaster because it is much weaker than previous existing resolutions. It undermines the Palestinian and Arab position on a whole range of issues including the rights of refugees, Jerusalem, settlements and other fundamental matters," says Abu Nimah.
But for Daoud Kuttab, a senior political analyst, the recent Arab initiative at the UN Security Council has positive outcomes. In a telephone interview with The Jordan Times he expressed optimism about the fact that two major EU states — France and Luxembourg — voted yes.
In what has recently been seen as a growing gap between EU members and Israel, Sweden was the first state to recognise Palestine after the latter became an observer state at the UN.
"In recent months, legislatures in France, Spain, Ireland and the UK have also voted in support of recognising Palestine. The development seems irreversible and indicates that the EU has been taking a more balanced approach to the Israeli-Palestinian conflict," Kuttab stresses.
After the failed bid, Palestinian President Mahmoud Abbas promised to "submit the resolution again, a third time or even a fourth time".
Meanwhile, Abbas' decision to join ICC also sparked different views of what the PA's diplomatic steps should be.
"The move to join ICC was just, as the Palestinian side hasn't [been] given any other choice to end 47 years of Israeli occupation of the West Bank and the Gaza Strip, and they can sue Israel for the permanent occupation and colonial settlement activities," Kuttab says.
Ramzy Baroud, Palestinian writer and founder of PalestineChronicle.com, considers that the move to join ICC a bit too late as the Palestinian Authority could have done that two years ago.
"In fact, in 2012, Palestine's status at the UN was upgraded, from an observer entity to an observer state. The delay shielded Israel from possible accountability in its major offensive against Gaza in 2008-09, and delayed investigation and due justice for the victims of the last summer offensive, dubbed Operation Protective Edge," says Baroud.
Abu Nimah even views the resumption of peace talks as counterproductive.
"There is no chance of productive peace talks with Israel and no chance of peace with an aggressive, land-stealing Zionist Israel whose goal remains to take as much of Palestine as possible without the people. Efforts to restart 'peace talks' are not only futile but also harmful; peace talks only grant Israel a cover to continue its aggression and avoid international pressure."
The solution on the long run is a diplomatic and economic isolation of the Zionist state, "like apartheid South Africa", Abu Nimah says.
According to Baroud, PA needs a "consistent strategy and vision" to address this reality, which he says it lacks.
"Let alone [that] Oslo failed to meet a single deadline including the final status agreement, which was meant to actualise in May 1999. At best, Abbas was a political manager, whose management strategy is predicated on finding political balances and catering to those with greater power and influence."
Amer Sabaileh, a Jordan-based analyst, shares similar sentiments about the prospects of the Middle East Peace Process.
"Unfortunately, I don't see any coming solution, due to many factors, above all, [Israeli Prime Minister Benjamin] Netanyahu will never be a man of peace. The whole world realises his real role now, yet the Israelis continue to vote for him," says Sabaileh
Abbas did not push for Israeli accountability for war crimes in the Gaza Strip, the West Bank and East Jerusalem, hoping that the Washington would force Netanyahu to change his style, but in vain, says PalestineChronicle.com's Baroud
"Conventional analysis suggests that Abbas' ICC move was the direct outcome of the expected failure of a UN Security Council resolution that was put to vote a few days earlier. The US, Israel's main political guardian, was naturally expected to veto the resolution, which would have imposed a deadline on Israel to end its occupation of Palestinian territories," Baroud adds.
Abu Nimah considers that the campaign of boycott and political isolation of Israel will bring the sought result on the long run.
"Jordan should be in the lead of isolating Israel. As for the Palestinian Authority, it should immediately end its so-called 'security coordination' with the occupation and fully support the popular campaign for boycott, divestment and sanctions."
Related Articles
Sep 27,2014
Palestinian President Mahmoud Abbas accused Israel on Friday of a "genocidal crime" in Gaza, telling the United Nations negotiations had failed and the time for Palestinian independence had come, drawing a sharp rebuke from Washington.
Mar 18,2015
Palestinian leaders on Wednesday called for international pressure on Israel and support for their unilateral moves towards statehood after Prime Minister Benjamin Netanyahu's election win.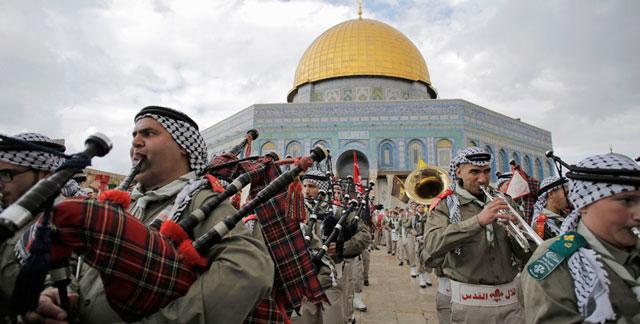 Jan 03,2015
Amid all domestic and regional turmoil and ensuing challenges, Jordan stood alone in a key battle for Jerusalem and came out triumphant, observers said. 
Newsletter
Get top stories and blog posts emailed to you each day.