You are here
Downtown merchants plan one-hour closure in solidarity with pilot's family
By Muath Freij - Feb 08,2015 - Last updated at Feb 08,2015
AMMAN — Downtown Amman stores will close for one hour on Monday in solidarity with the family of pilot Muath Kasasbeh, who was murdered by the so-called Islamic State (IS), a trader said Sunday.
Yahia Awamreh, the head of the Downtown Amman Traders Committee, said a great number of merchants have agreed to join the initiative because they wanted to show sympathy and support for the Kasasbeh family.
"Stores will be shut between 11:30am and 12:30pm," he told The Jordan Times over the phone.
Awamreh noted that the shop owners also seek to show support for the country, His Majesty King Abdullah and the armed forces.
The accessories vendor stressed that merchants will not hold any activities, such as marches or sit-ins, other than the hour-long closure.
"We do not want to burden security personnel because they always have to show up at rallies and demonstrations to ensure public safety," Awamreh said.
"We only want to close the stores and make every vendor stand outside his shop in a simple gesture of solidarity."
Since IS released a video last week purportedly showing the pilot being burned alive, many activities have been held around the Kingdom to express solidarity with the pilot and show support for his family and the country's fight against terror.
Related Articles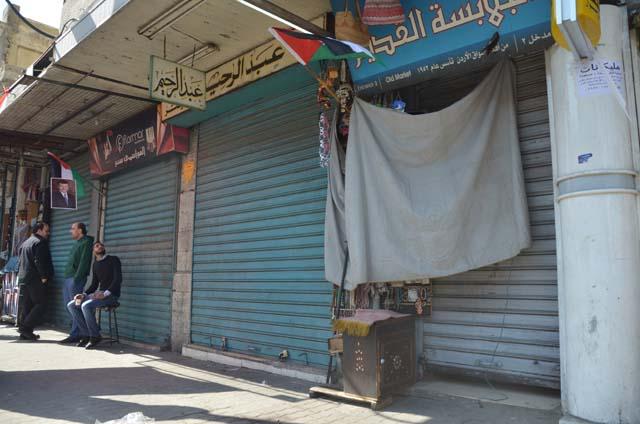 Feb 09,2015
Downtown shopkeepers closed their stores for an hour on Monday in a show of solidarity after the murder of air force pilot Muath Kasasbeh by the so-called Islamic State.
Jan 28,2015
Although Jordan expressed readiness to set free a convicted terrorist in return for the freedom of a Jordanian pilot taken hostage by the so-called Islamic State (IS), the latter did not respond to the proposition but sent another ultimatum to the pilot's family, hours after a first deadline set by the group ended.
Feb 07,2015
Their Royal Highnesses Princes Ali and Hashem on Friday offered their condolences to the family of Jordanian pilot Muath Kasasbeh in his family home in Karak Governorate.
Newsletter
Get top stories and blog posts emailed to you each day.