You are here
Dreary weather to persist as first snow falls in Ajloun
By JT - Jan 06,2019 - Last updated at Jan 06,2019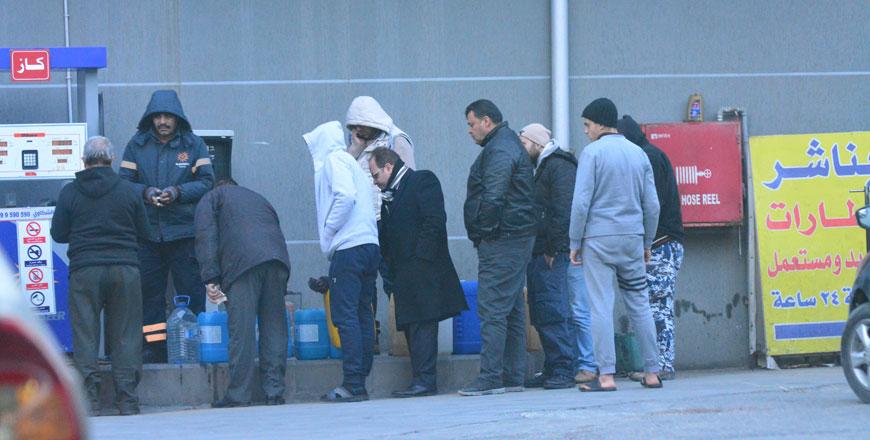 People stock up on gasoline on Sunday ahead of more rain and possibly snow later this week in Amman (Photo by Amjad Ghousn)
AMMAN — The year's first snow fell in Ajloun on Sunday evening, as the Jordan Metrological Department (JMD) predicted cloudy weather with a chance of showers today in the northern region.
Light snow fell over the highlands of Ajloun on Sunday evening, the Jordan News Agency, Petra, reported. The JMD added that more snow and heavy rain was possible for other parts of the country later in the week.
On Tuesday, cold and cloudy weather will continue to affect the country with a chance of showers in the northern region of Jordan.
In the evening, the Kingdom will be affected by a very cold air mass accompanying a depression centred over Cyprus, the JMD said.
Rainfall will begin to pour over the northern region and gradually extend to the central and south-western parts of the Kingdom.
Heavy rainfall is forecast for the northern and central parts of the country during the evening, which might be accompanied by thunder and hail.
The JMD warned of possible flooding in valleys and low-lying areas.
During the late evening hours, precipitation may be mixed with snow over high mountainous areas.
Brisk south-westerly winds with strong gusts of 70kmph are expected in some areas, which may raise dust in the Badia region.
In response to the forecasted weather conditions, the Greater Amman Municipality (GAM) on Sunday announced a medium state of emergency, the Jordan News Agency, Petra, reported.
The GAM said that people could contact its main operation centres to ask for help on weather-related emergencies at 06-5359970, 06-5359971 or 0798166789.
The GAM urged people to secure items outside their homes and remove objects on rooftops that could be blown away by strong winds.
It also urged the public to avoid linking drainage to sewage networks, a practice that can cause manholes and streets to flood.
Also on Sunday, the Jordan Valley Agriculture Department called on farmers to take precautionary measures to avoid damage to their crops as a result of frost forecasts, according to Petra.
Department Director Baker Alawneh called on farmers to close their greenhouse doors before the evening to maintain temperatures, and to irrigate crops during nights with expected frost.
The governor of Ajloun, Ali Majali, also said that emergency services were prepared to deal with the weather conditions, after the snowfall on Sunday.
Newsletter
Get top stories and blog posts emailed to you each day.