You are here
Eager Lion concludes with joint combat exercise
By JT - Apr 26,2018 - Last updated at Apr 26,2018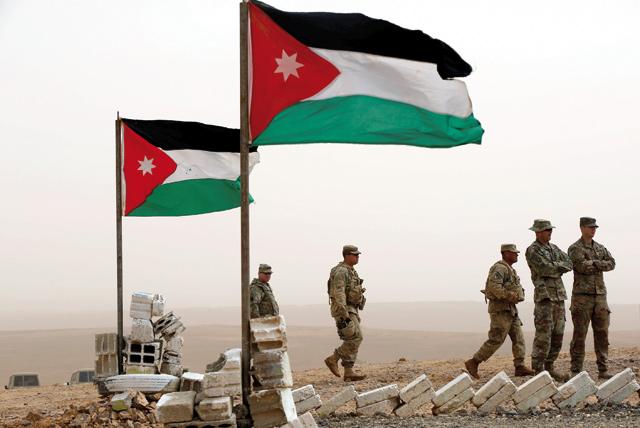 Jordanian and US soldiers take part in Eager Lion exercises at one of the Jordanian military bases in Azraq, east of Amman, on Thursday (Reuters photo by Muhammad Hamed)
AMMAN – The "Eager Lion" drills 2018 concluded on Thursday with a tactical attacking exercise that was carried out by elected units of the Jordan Armed Forces (JAF) – Arab Army, and the US army.
The exercise was conducted in one of JAF's training fields in the presence of commander of the operations and training Brig. Gen. Misleh Maaytah and US Army Central Commander Lt. Gen. Michael Garrett, the Jordan News Agency, Petra, reported.
Various light and medium weapons and artillery were used in the exercise which also focused on how to deal with minefields, reconnaissance and combat operations, Petra said.
The commands and units participating in the exercise demonstrated a high level of coordination and implementation of the joint operations, manoeuvring, support, services for the participating troops, and high efficiency in coordinating fire shots of various weapons used in the implementation of ground operations.
The exercise was attended by a number of JAF senior officers and US military senior officers participating in the 2018 Eager Lion drill.
The 2018 Eager Lion drill, which was implemented by more than 7,000 participants and has been ongoing since the 15th of this month, and was executed in cooperation with US forces and with the participation of all JAF sectors, security agencies, various ministries, governmental and non-governmental organisations, as well as National Centre For Security and Crises Management, aims to demonstrate the relationship between military forces, agencies, organisations and ministries in order to exchange military expertise at all levels.
Related Articles
Oct 23,2017
AMMAN — Head of the operations and training at the Jordan Armed Forces-Arab Army (JAF) Brig. Gen.
Sep 06,2019
AMMAN — The 2019 "Eager Lion" drill concluded on Thursday with a tactical attacking exercise that was carried out by elected units of the Jo
May 25,2016
AMMAN — "Eager Lion 2016" exercise on concluded Tuesday, according to a Jordan Armed Forces-Arab Army (JAF) statement. The final joint