You are here
EU to finance 6m euro 'Irrigation in Jordan Valley' project
By JT - Feb 17,2016 - Last updated at Feb 17,2016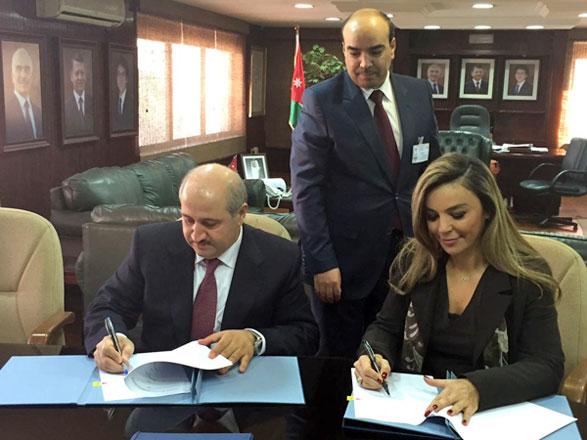 Water Minister Hazem Nasser and Sawsan Aruri, German Development Bank deputy director, sign an agreement in Amman on Wednesday (Photo courtesy of KfW)
AMMAN — The Water Ministry and the German Development Bank (KfW) on Wednesday signed a financing agreement for the "Irrigation in the Jordan Valley" project.
The scheme is fully funded by the EU through a grant of around 6 million euros (some JD4.7 million), according to a statement released by the KfW and the EU.
Water Minister Hazem Nasser and Sawsan Aruri, KfW deputy director, signed the deal.
"This project will finance a pipeline for reclaimed water to support farmers in the Northern Jordan Valley to safely and effectively use reclaimed water for irrigation purposes," the statement said.
"This will be achieved by transferring bulk reclaimed water from two sources to farm turnouts: The first source will be reclaimed water from the Greater Irbid area in the north of the project area, the second is reclaimed water from the Greater Amman area that flows through the Zarqa River in the south of the project area," it added.
The water is currently conveyed from the Zarqa River to the north through the "Zarqa Carrier III", but the carrier does not reach the northernmost area of the Jordan Valley.
The investment entails the construction of a 9km pipeline for reclaimed water with a diameter of about 600mm between Turnout 24 of the King Abdullah Canal and the current end point of the Zarqa Carrier III in the south at Turnout 33.
"The pipeline will allow a better use of reclaimed water by carrying [it] from the north to the central Jordan Valley in winter and... from King Talal Reservoir further to the north in summer [bidirectional use]," the statement said, adding that the foreseen measures will be implemented by the Jordan Valley Authority with the KfW's support.
Related Articles
Jun 30,2014
Construction work commenced on Monday on two main carriers to convey water from the Disi Water Conveyance Project to the northern governorates, according to the Ministry of Water and Irrigation.
Sep 03,2014
The German Development Bank (KfW) has approved funding for water and wastewater projects in Zarqa and Amman worth 80 million euros, a government official said on Wednesday.
Jul 06,2014
A pipeline will be established to convey water from King Abdullah Canal to Irbid Governorate to address the surging demand for water due to the ongoing Syrian refugee influx in the northern region, government officials said Sunday.
Newsletter
Get top stories and blog posts emailed to you each day.