You are here
EU, UNESCO celebrate Jordanian youth achievements
By Camille Dupire - Feb 08,2018 - Last updated at Feb 08,2018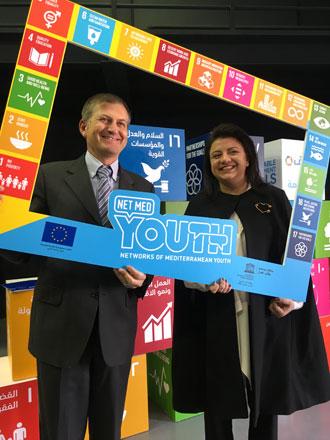 This photo showsHRH Princess Ayah and EU Ambassador to Jordan Andrea Matteo Fontana during a gathering at Ras Al Ain on Wednesday (Photo courtesy of NET MED Youth project)
AMMAN — Over 200 youths and experts in the field of development on Wednesday gathered at Ras Al Ain Hangar to discuss youth-led initiatives conducted under the EU-funded NET MED Youth project.
During the event, held under the patronage of HRH Prince Faisal, the participants witnessed several group discussions led by experts and heard success stories of young Jordanians before moving on to a networking event, where they were acquainted with various initiatives and exchanged views on their respective youth activities.
Speaking on behalf of Prince Faisal, HRH Princess Ayah said: "I believe strongly that we must empower the voices of youth. We must ensure that young people throughout the region are provided with the multifaceted training, skills and support required to engage as active citizens and lead the global movement towards the creation of a peaceful world."
The event started with a video featuring the journey of the UNESCO Networks of Mediterranean Youth project (NET-MED Youth), which has been implemented in partnership with youth organisations, institutions and partners, with the aim of "promoting the creation of an enabling environment for youth to develop their competencies, exercise their rights and meaningfully engage as active citizens".
Over the past three years, the project has facilitated a number of initiatives, such as the FOR9A platform by Sami Hourani, the creation of the first National Youth Organisations Coalition in partnership with UNESCO and the publication of the "Youth Media Perceptions" report presented by Ikhlas Al Khawaldeh, among others, all developed in accordance with the National Youth Empowerment Strategy (2017-2025).
Hourani, who introduced the internship programme offered by FOR9A, a platform providing free educational advice, training, capacity building, and skill development opportunities for the youth, said: "We do not give you a job opportunity but we give you an opportunity to get a job, a better job or to create your own job."
This focus on vocational training was echoed by EU Ambassador to Jordan Andrea Matteo Fontana, who stressed the importance of such courses in helping the youth access the labour market.
"We need to invest in youth capabilities as youth is Jordan's most valuable resource," he said, reiterating the EU support to all the initiatives that enhance their involvement in good governance, citizenship, education, entrepreneurship and employment.
Fontana also announced an upcoming EU-funded and UNESCO led project focused on "media information and literacy which targets youth and their ethical use of social media literacy".
In addition to celebrating the accomplishments of the NET MED Youth, the event also focused on the 2030 Agenda for Sustainable Development through a panel discussion featuring MP Wafa Bani Mustafa, Secretary General of the Jordanian National Commission for Women Salma Nims and General Director of Al Hayat Centre for Civil Society Development Amer Bani Amer
Before answering the audience's questions, the speakers, who participated in the High-level Political Forum on Sustainable Development in July 2017 in New York, reviewed the implementation of SDGs in Jordan, the process of decentralisation, as well as the challenges faced by the local youth.
Nims also highlighted ways to increase participation of Jordanian girls in learning and obtaining economic opportunities.
Elaborating on the ambitions of the 2030 Agenda, UNESCO Representative to Jordan Costanza Farina stated: "As the world embarks on this new journey towards sustainable development, we must seize the unique opportunity to highlight the essential role of youth. We must reaffirm our commitment to work in a concerted and effective manner towards contributing to sustainable development, and towards achieving all 17 SDGs [sustainable development goals]."
During their tour of the 30 booths, participants got to exchange ideas and create new synergies between their initiatives. "As young people, we have great skills, and we love to go through new experiences to learn and develop our experiences, and we need to be in decision- making positions to learn even more," an ILearn volunteer said.
This idea was reflected by another young volunteer who said: "Good education will create mature minds capable of dealing with the various difficulties facing young people and thus will positively reflect on society."
A cultural note was added to the event, with an artistic performance by Jordanian and Syrian youth from the National Center for Cultural and Art.
Related Articles
May 18,2017
AMMAN — UNESCO Amman office on Wednesday launched the "Youth Media Perceptions" discussion papers, as part of an initiative under the region
Nov 30,2017
AMMAN — Sami Hourani is a young Jordanian entrepreneur who turned his back on a lucrative job in robotic surgery to establish a youth educat
Nov 13,2017
AMMAN — "We have confused two concepts into one: the high school graduation diploma and the university acceptance.
Newsletter
Get top stories and blog posts emailed to you each day.