You are here
Excavations at ancient sanctuary in Jordan Valley offer glimpse into area's religious past
By Saeb Rawashdeh - Jan 19,2020 - Last updated at Jan 19,2020
A team of researchers from Yarmouk University and the Dutch National Museum of Antiquities conduct excavations at Tell Damiyah in the central Jordan Valley (Photo courtesy of Lucas Petit)
AMMAN — During the ninth season of excavation at Tell Damiyah (Damiyah Hill) in the central Jordan Valley, a joint project of the Yarmouk University and the Dutch National Museum of Antiquities, a team of researchers uncovered three additional rooms of a religious complex dating to around 700 BC, a Dutch scholar said.
"Finds of previous seasons, such as clay statues and figurines, have astonished the world since in-situ religious contexts are extremely rare in the southern Levant," said archaeologist Lucas Petit, adding that the discovery of non-local objects in and around the complex suggests that the sanctuary was used by local as well as international people.
Travellers and traders were welcomed at Tell Damiyah seemingly independent of their cultural and religious background, Petit continued, adding that nothing inside the sanctuary gives a clue about the type of deities that were worshipped.
"Taking into account that during the Iron Age II [1000-550 BC], religion in this area changed gradually from polytheism to monotheism, we consider Tell Damiyah a very liberal place of worship," the scholar said.
He added that during the previous season, the team uncovered two rooms of the complex, which contained storage jars filled with burnt food products including barley and wheat.
"Since the settlement is very small and only partly inhabited, these food supplies support our idea that Damiyah was a kind of caravanserai [a roadside inn where caravaners could rest] with a sanctuary," the scholar added.
He also noted that inscriptions found at Tell Mazar, which is close to Tell Damiyah, can be dated to the 6th century BC, the Persian period (5th century BC) and the early Hellenistic period (4th-3rd century BC).
"Not all inscriptions were found in a good context, and the texts have suffered severe degeneration. It is therefore difficult to use those texts for understanding the area or for constructing its history," Petit said, adding that both the content as well as the script are nonetheless a significant addition to the relatively small corpus of inscriptions from the central Jordan Valley.
In Autumn 2019, researchers at the excavation site at Tell Damiyah discovered four sherds with inscriptions, very comparable to those discovered at Tell Mazar, both in terms of inscriptions and date. Research on these objects is ongoing, the archaeologist added.
Related Articles
Apr 03,2017
AMMAN — Located strategically on the Jordanian-Palestinian border in the central Jordan Valley, and at the confluence of the Zarqa and Jorda
Jul 12,2022
AMMAN — The site of Tell Deir 'Alla, in the central Jordan Valley, was a settlement during the 13th century BC and functioned as a town, not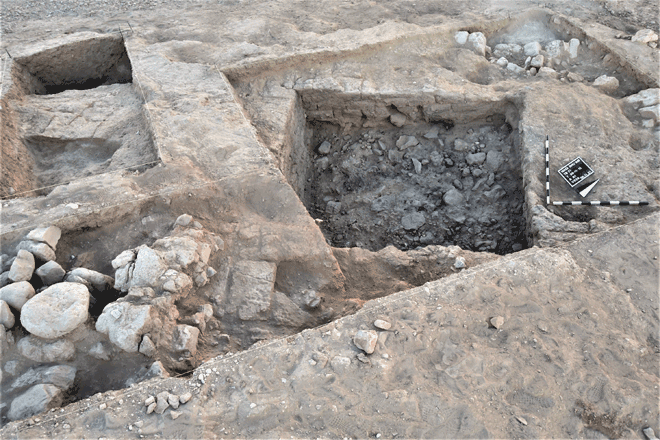 Feb 13,2023
AMMAN — After a pandemic-induced break in active field work in 2020, archaeological work in Jordan's Wadi Shuaib resumed in 2021, said Alexa