You are here
Experts call for revising child protection legislation, alternatives to corporal punishment
By Laila Azzeh - Jul 18,2017 - Last updated at Jul 18,2017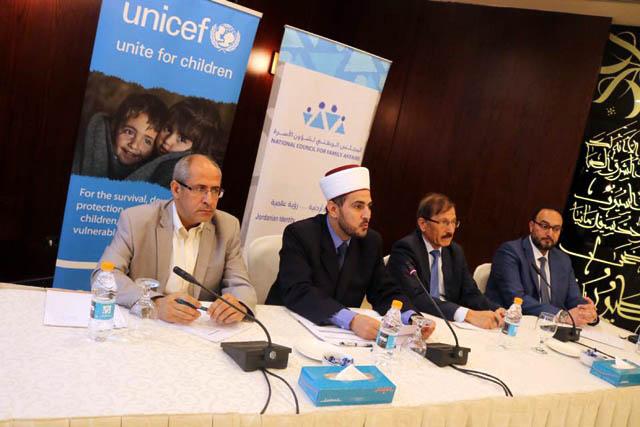 Experts, religious figures and officials attend a consultation meeting organised by the National Council for Family Affairs in cooperation with UNICEF and the Health Ministry, discussing ways to encourage upbringing methods that substitute corporal punishment in Amman, on Monday (Photo courtesy of NCFA)
AMMAN — Experts, religious figures and officials on Monday called for revisiting national legislation to provide better protection for children, while raising awareness on alternatives to corporal punishment.
At a consultation meeting to discuss ways to encourage methods that substitute corporal punishment, they underlined the need to promote programmes that raise awareness among parents of the "best ways" to deal with children in order to promote positive behaviour.
Organised by the National Council for Family Affairs (NCFA) in cooperation with UNICEF and the Health Ministry, the one-day event offered a platform for experts to highlight the psychological, social and economic consequences of child abuse, as well as the cultural and legal aspect of the phenomenon.
Health Minister Mahmoud Sheyyab noted that the ministry has institutionalised its efforts to deal with victims of abuse, particularly women and children, and ensures that they are in line with international conventions to which the Kingdom is a signatory.
Ettie Higgins, UNICEF deputy representative to Jordan, said that the Kingdom has made "striking achievements" for the rights and wellbeing of its children since it ratified the Convention on the Rights of the Child in 1991, adding that the country has a "long-standing record of being the pioneer in the region in setting up national protection system that ensures safety and security of all children".
"But like all countries in the world, challenges and hurdles still remain in Jordan," said Higgins, who cited figures by the 2012 Jordan Population and Family Health Survey that show that two out of three children in Jordan were subjected to at least one form of physical punishment at the hands of their parents or other adult.
Sheyyab stressed the "horror" of having such figures, noting that, regardless of the study's definition of abuse, the "culture tolerates a lot of forms of corporal punishment and this has to change", adding that the ministry has been training its staff in hospitals and healthcare centres to detect early signs of abuse and deal with these cases in a way that serves the best interests of the victims.
Although amendments to the Penal Code have been introduced to ensure that no harm is inflicted on children as a result of punishment at home or school, Article 62 of the same law states permits "Forms of discipline exercised on children by their parents, in a manner that does not cause harm or damage to children, and as sanctioned by general customs", the UNICEF representative said.
Experts argued that the "very vague" article leaves the estimation of the level of harm inflicted on children in the hands of their guardians, which is relative and differs from person to person.
"What might be seen as an innocent disciplinary act by one person, might be, according to other standards, very harmful and proven to cause deep psychological scars that stays with the child for a long time," said psychologist Tayseer Shawash.
NCFA Secretary General Fadel Hmoud underlined the importance of the gathering in shedding light on the consequences of a "dangerous phenomenon" and voiced his appreciation for UNICEF for cooperating with the centre to eliminate all forms of abuse against children.
Last week, UNICEF, in cooperation with the NCFA, launched a national social media campaign to raise awareness about child abuse.
"So far, the campaign's posts received 2.2 million impressions on social media," said Higgins.
Related Articles
Nov 22,2014
World Day for Prevention of Child Abuse arrived this year with a packed agenda to improve children's rights in Jordan. 
Apr 16,2014
The difference between child discipline and abuse remains a grey area under the current Penal Code, putting children's well-being at risk, experts said earlier this week.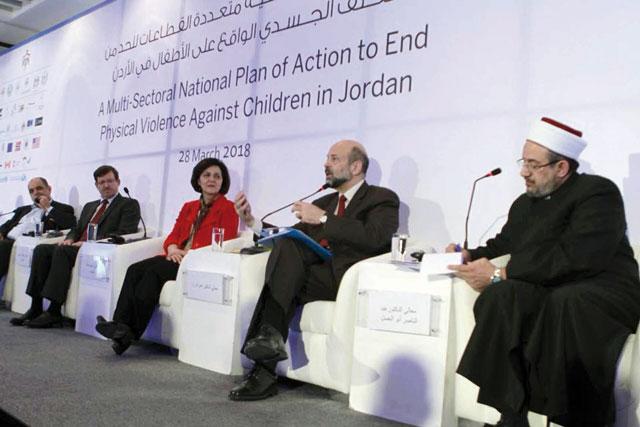 Mar 29,2018
AMMAN — The government on Wednesday pledged to implement a three-year national strategy and action plan to reduce physical violence against
Newsletter
Get top stories and blog posts emailed to you each day.