You are here
Experts weigh in on best times for exercise in Ramadan
By Sawsan Tabazah - May 31,2016 - Last updated at May 31,2016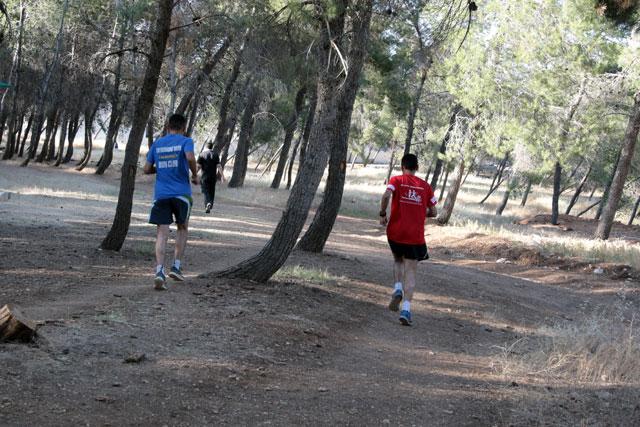 Young men jog at Al Hussein Youth City in Amman on Monday (Photo by Osama Aqarbeh)
AMMAN — As some see in the fasting month of Ramadan an opportunity to lose weight, health experts said the best time to practise sports is in the hours before the breaking of the fast.
"Doing sports before iftar will enhance the body's ability to burn fat by 100 per cent," nutritionist Bushra Badarein told The Jordan Times on Monday.
Walking after taraweeh prayer (special evening prayer performed in Ramadan) is also effective in losing weight because the body is ready for physical activity, she noted.
Cardiology Consultant Eyas Al Musa said the best time for doing sports depends on the individual.
"But I would recommend immediately before iftar if the individual does not suffer dehydration, or three to four hours after the meal," he said, noting that sports alone is not enough to lose weight if the person did not decrease total calorie intake.
In Ramadan, the ninth month of the Islamic lunar calendar, Muslims abstain from eating and drinking from dawn to sunset. Consumption of food and beverages in Jordan tends to rise during the fasting month due to the change in eating patterns.
"For cardiology patients I would recommend doing sports for 35 minutes before iftar or after iftar unless their medication does not allow them to perform vigorous physical activities," Musa said.
Badarein advised those who are seeking a healthy diet to avoid soft and caffeinated drinks and other popular Ramadan juices.
"Milk is important after sports to avoid hypoglycaemia [low blood sugar]," she added.
It is vital for diabetic patients to check their blood sugar before doing sports; if it was above 200 mg/dl, they should not exercise, the nutritionist said.
Patients who suffer from high cholesterol are advised to fast, exercise and take vitamin E to get rid of the cholesterol, she noted.
She added that it is important to consume traditional Ramadan sweets such as qatayef (fried or baked pancakes stuffed with cheese, nuts, or cream) in moderation, and to replace the popular drinks such as tamarind with fresh juices.
Related Articles
Jul 22,2014
Hydration during sohour and iftar is key to survive the 16 hours of fasting in-between, according to nutrition and fitness experts.
Jun 18,2016
ZARQA — In the past few years, the fasting month of Ramadan has fallen during the summer, and the hotter the weather, the thirstier people b
May 28,2016
AMMAN — As Ramadan is approaching, local organisations and health experts on Saturday convened to give nutrition and health tips to diabetic
Newsletter
Get top stories and blog posts emailed to you each day.