You are here
Fakhoury briefs Asian bank on benefits of investing in Jordan
By JT - Jun 27,2016 - Last updated at Jun 27,2016
Minister of Planning and International Cooperation Imad Fakhoury attends the first annual meeting of the board of governors of the Asian Infrastructure Investment Bank in Beijing on Saturday (Photo courtesy of Ministry of Planning and International Cooperation)
AMMAN — Minister of Planning and International Cooperation Imad Fakhoury participated in the first annual meeting of the board of governors of the Asian Infrastructure Investment Bank (AIIB) in Beijing on Saturday, in which Jordan is a founding member.
In his speech at the opening session of the meeting, Fakhoury said Jordan is looking forward to starting its dialogue with the bank in the coming months.
Jordan hopes to develop a pipeline of potential projects that could be supported by the AIIB or through joint financing with other multilateral development banks (MDBs) to contribute to the development of critical sectors and existing infrastructure in the Kingdom, the minister said.
According to a ministry statement, Fakhoury said that as Jordan has a track record of "successful" implementation of over $10 billion of public-private partnership (PPP) projects over the past decade, authorities have identified a number of priority projects of around $25 billion to be delivered through PPPs in the sectors of energy, renewable energy, transport, water, solid waste, urban development, green economy and more over the next five years.
The minister said the Kingdom has also launched a number of solar and wind energy projects as well as the Red Sea-Dead Sea Water Conveyance Project, which he said is a Jordanian project with a regional impact.
In 2015, Jordan adopted its new 10-year economic blueprint, Jordan 2025, based on a comprehensive consultative process with the goal of relaunching growth and investment while deepening reform and inclusion with widening PPPs, Fakhoury said.
"Our new vision and the first Executive Development Programme 2016-2018 that we adopted to implement this vision will enable us to move fast to diversify resources, develop infrastructure and capitalise on strengths," the minister added, briefing attendees on efforts Jordan has made recently to improve economic competitiveness and the business environment.
He cited several laws passed by Parliament in recent months such as the new investment bill and the PPP Law.
"In Jordan, we do not lack the vision; and we have succeeded over the years to remain resilient in spite of recurring regional turmoil and to turn challenges into real opportunities as we recently did with the energy challenge," he said.
On the benefits of investing in Jordan, Fakhoury said the Kingdom continues to be a safe haven and a leading regional business and logistical gateway, with access to over 1 billion consumers across the world due to free trade agreements signed with large economic powers.
Fakhoury indicated that Jordan recently started discussions on a silk corridor agreement and to develop a free trade deal with the Euro-Asia Economic bloc to continue work to deepen economic integration with Asia and neighbouring regions.
As the AIIB board of governors is scheduled to elect a new board of directors, Fakhoury said regional countries should enjoy fair representation in the board as it will be responsible for the strategic direction of the bank.
The minister said the Middle East and North Africa region has a strong appetite for increased support and potential for growth and investments in infrastructure.
The AIIB started operating in January at the initiative of China to support the building of infrastructure in Asia.
At the annual meeting, two seminars were held for governors, their delegations and guests from the business community, academia and civil society.
The Infrastructure and Global Economic Growth seminar discussed opportunities for MDBs and development partners in public and private sectors to cooperate to better understand and to help meet the massive infrastructure financing gap.
A seminar on the role of MDBs in financing green infrastructure featured discussions on how MDBs can work with clients and development partners to ensure that new infrastructure investments support the outcome of the Paris Climate Conference.
The next AIIB annual meeting will be held in Jeju, South Korea from June 16 to 18, 2017.
Related Articles
Jul 06,2017
AMMAN — Minister of Planning and International Cooperation Imad Fakhoury on Wednesday met with a delegation from Asian Infrastruc
May 09,2015
Jordan has officially become a founding member of the Asian Infrastructure Investment Bank (AIIB), Planning and International Cooperation Minister Imad Fakhoury has said.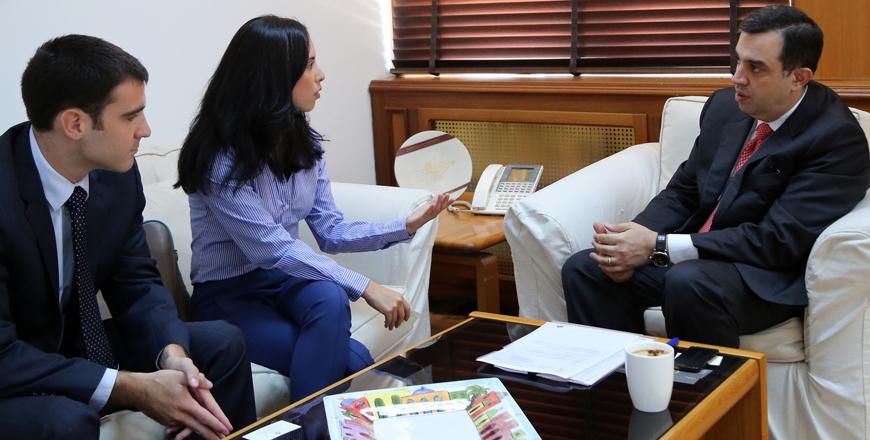 Sep 03,2015
AMMAN — Oxford Business Group (OBG) announced in a press statement this week that it will be publishing a wide-ranging interview with Planni
Newsletter
Get top stories and blog posts emailed to you each day.