You are here
Family affairs council signs agreement to establish early childhood development platform
By Ana V. Ibáñez Prieto - May 21,2018 - Last updated at May 21,2018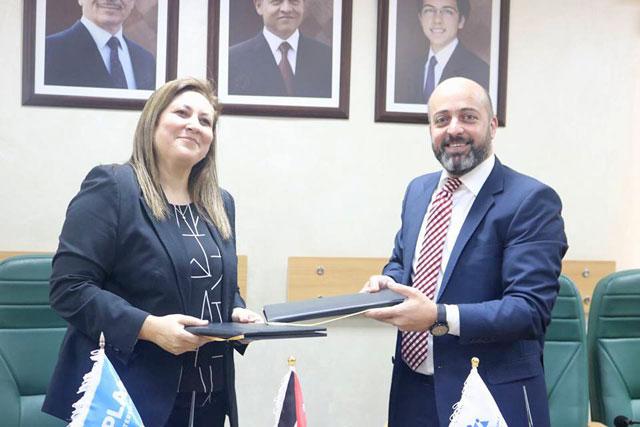 National Council for Family Affairs acting secretary general, Mohammad Miqdadi, and Plan International-Jordan representative, Muna Abbas, sign an agreement in Amman, on Sunday (Photo courtesy of NCFA)
AMMAN — The National Council for Family Affairs (NCFA) on Sunday signed a partnership agreement for early childhood development (ECD) with Plan International Jordan (PIJ), aimed at establishing an ECD coordination platform in the Kingdom.
The agreement was signed on behalf of the NCFA by acting Secretary General Mohammad Miqdadi, and by PIJ Representative in Jordan Muna Abbas.
"This partnership will bring together all key players in the ECD sector at the national and international levels including all the relevant ministries," PIJ Lead ECD Network Coordinator Ibtisam Amara told The Jordan Times, explaining that the new platform will "focus on fostering a better inter-sector collaboration among main ECD actors responding to the Syrian and Iraqi crises, targeting both host communities and refugee children".
"This area is of utmost importance in the development of children both in the context of the family and the society," the NCFA said in statement, explaining that the new agreement aims at "highlighting the priority thematic areas when responding to the needs of young children, parents and caregivers".
The project will develop a "multisector approach" in order to ensure the provision of the best services for all children across the Kingdom through humanitarian programmes, the statement said.
In Jordan, there is still a gap in children accessing ECD integrated services such as parenting support programmes, a report on ECD by UNICEF said in December last year.
The study, conducted with the support of the Social Development, Education, Health and Awqaf ministries, noted that quality daycares or nurseries are scarce, with only 13 per cent of children aged 4-5 years attending formal pre-school, while an estimated 59 per cent of the country's five-year-old children attend KG2.
"We're talking about an enormous opportunity to change the lives of generations of children by investing more in those first critical years of growth," the UNICEF representative in Jordan said, pointing out that "Jordan has made huge inroads in improving education access over recent years, and now is the time to turn our attention to the youngest in society".
For his part, Minister of Education Omar Razzaz noted that "science clearly tells us that play-based learning is key for children to prepare for entering primary school", adding that the ministry's vision is "to provide ECD services at scale without compromising quality so that children in Jordan realise their full potential".
Related Articles
Jun 07,2018
AMMAN — The National Council for Family Affairs (NCFA) on Wednesday held its first consultative meeting with stakeholders on early childhood
Dec 23,2017
AMMAN — Investing more in the first 1,000 days of every child's life, can vastly improve their future wellbeing, happiness, educational
Sep 06,2016
AMMAN — The National Council for Family Affairs (NCFA) is conducting research on the status of children in Jordan in 2016 for a joint report
Newsletter
Get top stories and blog posts emailed to you each day.