You are here
Family of woman with disability chains her to stairs for 15 years
By Khetam Malkawi - Apr 15,2015 - Last updated at Apr 15,2015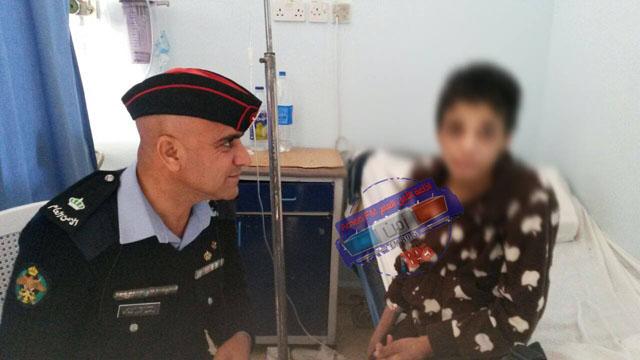 AMMAN — Nisreen, a 20-year-old woman with a mental disability, spent the past 15 years chained to the staircase in her family's house, except at bedtime.
Whether it was winter or summer, her parents used to keep her chained fearing that she might run away, according to Amen FM, the Public Security Department's radio station (89.5FM).
Two days ago, the radio received a phone call from her family's neighbour in Irbid Governorate, 80km north of Amman, who reported the case.
The case was immediately verified by security personnel and the Ministry of Social Development, who discovered that Nisreen was living with her father and stepmother, according to the ministry's spokesperson, Fawaz Ratrout.
The discovery of Nisreen's case opened the door for other cases to be reported, Ratrout said, adding that a similar case of a girl with a disability was reported the next day in Mafraq Governorate.
He told The Jordan Times that the second case involves a girl who is older than Nisreen and also lives with her father and stepmother.
"Nisreen is currently in hospital for a medical checkup, and it was found that she suffers from malnutrition," Ratrout said.
Adding that she will be referred to one of the ministry's care centres due to the abuse she has suffered with her family, he noted that the case is currently at the judiciary.
As for the case in Mafraq, the ministry's spokesperson said the girl will also be taken from her family and referred to "one of our care centres".
Violations against persons with disabilities could also include sexual abuse against girls, according to Ratrout.
"Two weeks ago, we discovered two cases of girls with disabilities who were sexually abused and they are at one of our centres now," he said without further elaboration.
Despite the laws that protect persons with disabilities and their rights, families still commit violations and practise abuse, the official added.
"Our message is clear… families have to take care of their disabled children, and if they don't want to, they should refer them to one of our centres, as we are able to take care of them," Ratrout said, noting that the families of Nisreen and the girl in Mafraq are well-off and have never sought or asked for any assistance from the ministry.
But both families have domestic problems, he said.
Ratrout also cited the case of a father who pushed his disabled son off a building and then burned his body last month. In that case, the father was married to two women and separated from the child's mother, according to the spokesperson.
Related Articles
Mar 13,2016
AMMAN — The Ministry of Social Development seeks to engage families of disabled children under six years in a home-based early intervention
May 28,2015
AMMAN — A recent abuse incident of a man with a mental disability in Irbid Governorate is an indication of the "inhuman" practices of
Aug 21,2017
AMMAN – A 12-year-old boy has recently resorted to the Social Development Ministry to seek protection from his father who reportedly forces
Newsletter
Get top stories and blog posts emailed to you each day.