You are here
Feminism has key role in quest for social justice, development — experts
Princess Basma says Arab feminism should reach out to other social movements to become part of mainstream rhetoric
By Laila Azzeh - Oct 23,2016 - Last updated at Oct 24,2016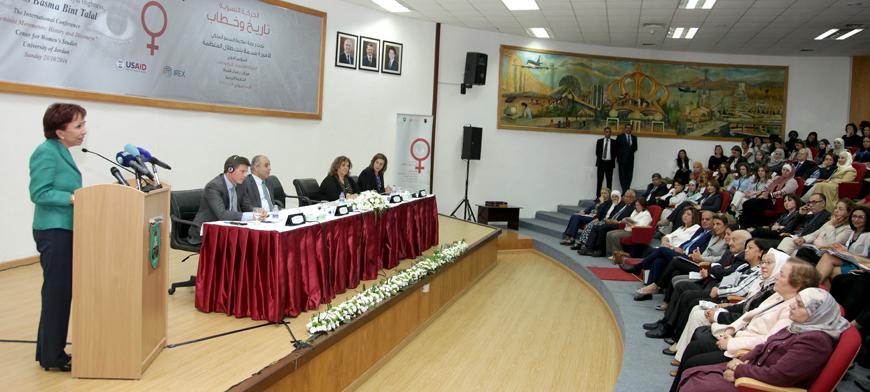 HRH Princess Basma speaks at a conference in Amman on Sunday on the history and discourse of the feminist movement (Petra photo)
AMMAN — In light of the political situation in the region, feminism should be addressed as a key element in the quest for social justice and political and economic development, experts underlined on Sunday.
At a conference in Amman on the history and discourse of the feminist movement, participants agreed on the need to examine and analyse Arab feminism, both in itself and in relation to the global movement.
"The economic and political empowerment of women has always been considered a pivotal issue in the work of women's rights bodies and researchers," said HRH Princess Basma.
"However, I see today that the empowerment approach has deviated from its course and has been limited to specific steps in pipelines instead of developing as an ongoing complex process that cannot be limited to a specific project with a timeframe," she added.
On the other hand, the princess underscored the significance of reaching out to all effective social movements, noting that this had helped in mobilising others to call for women's rights.
"This has helped in making these demands a main feature in public opinion and decision making," Princess Basma said.
The Arab feminist movement should work to attract other social movements, so that its rhetoric becomes mainstream, she added.
Regionally, some practices have become entrenched and must be eliminated, the princess said, citing early marriage and violence against girls and women.
"In this context, I would like to emphasise that in the midst of the calamities, wars, destruction and threats taking place now, there is a dire need for a feminist movement that effectively contributes to curbing injustice."
The conference, organised by the University of Jordan's (UJ) Women's Studies Centre, brought together experts from several Arab and foreign states to share their countries' experience in women's studies and gender-based equality.
The event was supported by the USAID-funded Takamol project and the German Development Cooperation.
"Arab feminism in general, and Jordanian in particular, has [regressed] for several reasons… feminism itself as a term is considered controversial although it simply means equality in citizenship," noted Takamol Chief of Party Nermeen Murad.
Director of Women's Studies Centre Abeer Dababneh underlined the importance of the event in addressing the history of Arab feminism as a social change movement, challenges facing it and its relationship to Sharia (Islamic law) principles.
UJ President Azmi Mahafzah agreed, saying that the conference is held at a "very critical time" that requires focus on the feminist movement's abilities to influence change.
Experts from Jordan, Palestine, Lebanon, Tunisia, Morocco, Sweden and Germany participated in the one-day conference, addressing feminist inquiries covering a wide spectrum of perspectives on social, cultural, economic and political phenomena.
Swedish Ambassador to Jordan Erik Ullenhag presented a briefing on his country's achievements in the economic empowerment of women.
"Feminism is smart politics. Feminism is smart economics," said the diplomat, noting that 78 per cent of Swedish women are active in the labour market.
Related Articles
Mar 22,2015
Arab media women have a lot to celebrate this year but also a lot to reflect on, as challenges still abound when it comes to effecting change to the situation of women from different walks of life, journalists said Sunday.
Mar 06,2019
AMMAN — Minister of Planning and International Cooperation Mary Kawar on Wednesday urged civil society and the international community to ta
Dec 09,2014
Gender-based violence leads to widespread social violence, which negatively affects the security and safety of the community, HRH Princess Basma said Tuesday.