You are here
First female divers certified in Aqaba
Three of 15 participants in specialised training on reef checking and eco-diving were female
By Hana Namrouqa - Jul 08,2018 - Last updated at Jul 08,2018
Participants in the programme receive comprehensive training on species identification and diving, among others (Photo courtesy of JREDS)
AMMAN — A specialised training on reef-checking and eco-dive has concluded in Aqaba, producing Jordan's first certified female divers, marine conservationists said on Saturday.
Fifteen participants, three of whom were females, underwent the specialised training on reef-checking and eco-diving, according to Ehab Eid, the Royal Marine Conservation Society of Jordan's (JREDS) executive director.
"The participants are from the local community of Aqaba. They are from institutions which are key partners of JREDS, including the Royal Jordanian Navy and the Aqaba Diving Association," Eid told The Jordan Times.
The training, which concluded on Thursday, seeks to create a bigger team capable of providing ecologically sound and economically sustainable solutions to save coral reefs, Eid highlighted.
"The five-day training programme entailed theoretical and practical parts. The participants received comprehensive training that entailed a training manual and species-identification flashcards. This was followed by several diving attempts at the Aqaba Marine Park, with the aim of applying theories in practice," he underlined.
By creating partnerships among navy, personnel community volunteers, government agencies and CBOs, "JREDS believes that management of these critically important natural resources will be improved", and that the level of awareness and knowledge of the coral reefs of Aqaba will be enhanced, Eid continued.
The marine conservationist noted that similar training was conducted in 2016, but the recent training programme constituted a huge milestone, as it entailed the participation of three female divers.
"Now Jordan has its first three female divers who are trained and certified to check the coral reefs of Aqaba for vital indicators that gauge whether they are healthy or not, and to act upon such reports," Eid commented.
Coral reefs in the Gulf of Aqaba, located some 330km south of Amman, cover almost half of Aqaba's coastline, offering 21 diving locations for the exploration of diverse, colourful and unique coral reefs, according to JREDS.
Thirteen kilometres of Aqaba's coastline, which stretches over a total of 27km, are covered with globally diverse coral reefs.
Mohammad Tawaha, JREDS, marine conservation programme manager and the society's office manager in Aqaba, said that participants were tested for the international reef-check accreditation at the end of the training programme, noting that results will be announced soon
"Through this, more qualified divers will be engaged in the international eco-divers community worldwide," he underlined.
The training programme, which was implemented in coordination with the Aqaba Marine Park of the Aqaba Special Economic Zone Authority, was supported by the EKF ESS project and funded by Germany through the GIZ and in collaboration with the Ministry of Environment, according to JREDS.
The unique beauty of Aqaba's coral reefs lie in the fact that 250 out of Aqaba's 516 fish species inhabit the reefs, according to the society.
The Gulf of Aqaba is a semi-enclosed water basin attached to the semi-enclosed Red Sea, with a length of 170km, an average width of about 15km and a maximum depth of more than 1,800 metres.
Jordan's coastline represents the northernmost outcropping of coral reef in the world and tolerates a higher salinity rate compared to other seas, according to the guide on toxic creatures in the Gulf of Aqaba.
Related Articles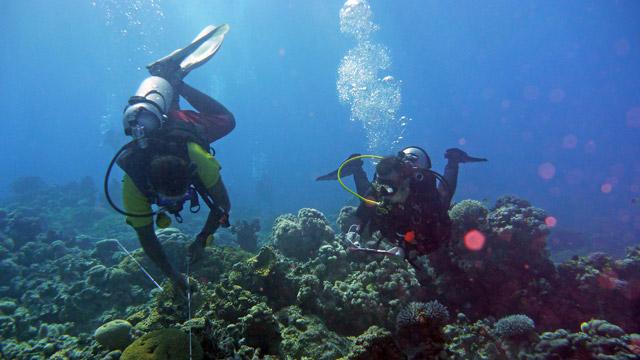 Aug 20,2017
AMMAN — The Royal Marine Conservation Society of Jordan (JREDS) on Saturday announced it was still receiving applications for its programme
May 15,2017
AMMAN — Six women from Aqaba will undergo professional diving training this year to become the port city's first batch of certified female d
Sep 04,2014
One to two square kilometres of Aqaba's public beaches are lost every year to investment projects, according to marine conservationists.