You are here
First flight carrying Syrian refugees from Jordan to Canada takes off
By Muath Freij - Dec 20,2015 - Last updated at Dec 20,2015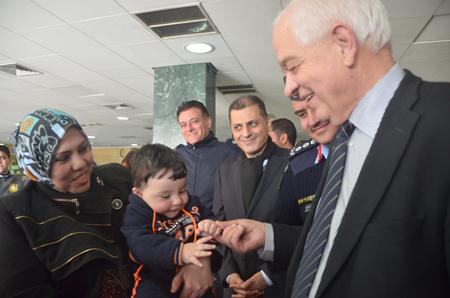 Canadian Immigration Minister John McCallum talks to Syrian refugees at the Amman civil airport in Marka on Sunday (Photo by Muath Freij)
AMMAN — The first flight carrying Syrian refugees from the Kingdom to Canada departed from the Amman Civil airport in Marka on Sunday.
The flight carried 197 refugees from Amman to Toronto, Olivier Jacques of the Canadian embassy in Amman, who is supervising the process of resettling Syrian refugees from Jordan in Canada, said on Sunday at the airport.
"[There] will be over a hundred flights carrying refugees from Jordan to Canada, because our goal is to get at least 10,000 Syrian refugees from Jordan all the way to Canada," he told The Jordan Times as refugees were waiting for their plane.
Canadian Immigration Minister John McCallum said some planes have already carried refugees from Lebanon to Canada.
"It is a big job, and as you can see around you, we are doing it very fast and we are planning to get 25,000 between November and end of February; that is a big number because they have to go through health [checks]; they have to go through security… so there is a huge number of people coming together to… make this happen," he told The Jordan Times on Saturday as he toured the refugee processing centre in Amman.
Refugees at the centre were being interviewed and medically checked before moving to Canada.
The minister also went to the airport on Sunday, meeting a number of refugees and welcoming them to Canada.
McCallum, who also visited a number of projects in Jordan supported by his government, noted that the total number of refugees to be resettled in Canada might be raised to reach between 35,000 and 50,000.
The Canadian government has recently announced that it will host 25,000 refugees from Jordan, Lebanon and Turkey.
"There are two kinds of refugees: there are sponsored refugees who are sponsored by their own families or by other groups and when they get to Canada they will automatically go wherever their sponsors are," McCallum said.
"The other group — the larger group — is the government-assisted refugees and they are paid for by the government and they usually do not have families."
Jacques said there are many Syrian refugees based in Lebanon who will be going to Canada and they will take a flight from Beirut, transiting in Amman on the way to Toronto or Montréal.
"In Canada when the refugees arrive, they have a visa for Canada but then the immigration authority will greet them and give them permanent residence status, which will give them the right to study, to work and to live in Canada," he explained.
"Once this is done, they will spend one night in Toronto or Montréal and then they will move on to the next destination where they will settle in Canada," Jacques added.
Some of the Syrians who were heading for Canada seemed optimistic despite the 12-hour flight.
Abu Mohammad, who did not give his full name, was among them.
"I am really happy. I was told that it will be safe for my family and so I decided to take my chance. I underwent medical tests and I said yes I would go to Canada," he told The Jordan Times.
For Abu Mohammad, stability is far from becoming reality in Syria.
Khasheeq George, who was waiting for his flight, described moving to Canada as a dream come true.
"I am going to secure a good future for my family," he said.
Related Articles
Dec 20,2015
AMMAN — Interior Minister Salameh Hammad on Sunday met with Canadian Immigration, Refugees and Citizenship Minister John McCallum and an acc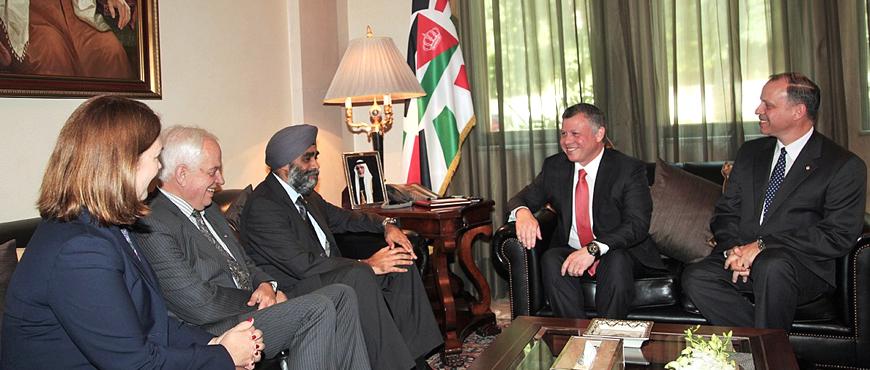 Nov 29,2015
AMMAN — His Majesty King Abdullah on Sunday received a ministerial delegation from Canada and discussed ways for the international community
Nov 21,2015
AMMAN — UNHCR Jordan has transferred files of Syrian families to the Canadian authorities for the resettlement process, Andrew Harper, the a
Newsletter
Get top stories and blog posts emailed to you each day.