You are here
Floods block roads in several regions; 'hundreds' rescued by CDD personnel
Unstable conditions to ease off Saturday, move southward
By Ahmed Bani Mustafa - Apr 27,2018 - Last updated at Apr 27,2018
Heavy rain puts rescue teams on alert in Amman and other areas in the north and central regions (Photo by Osama Aqarbeh)
AMMAN — The Civil Defence Department (CDD) on Thursday rescued "hundreds" of people trapped by water floods in houses, vehicles and streets across the Kingdom, an official said.
A heavy downpour flooded streets and neighbourhoods in the northern and central regions of the Kingdom.
"No injuries or deaths resulted from the heavy rain that flooded many streets and houses", a CDD media official told The Jordan Times on Thursday.
CDD cadres also pumped out rainwater from houses and streets, the official said, adding that no exact numbers were available as the operations were still ongoing.
Rescue personnel also evacuated many residents living in tents to protect them from sand storms and flash floods, the officer said.
Several videos went viral on social media showing vehicles being drawn by floodwater in several locations in the Kingdom. The CDD officer confirmed that several cars were damaged by floods.
Mohammad Bani Issa, a resident of Irbid's Deir Abi Saeed, told The Jordan Times that he never saw such an amount of water flowing near his house.
"Several people were stuck in their vehicles and about to drown, but the civil defence rescued them using equipment including cranes", Bani Issa said.
"It began raining in the early evening; later we saw cars, pickup trucks and even big trucks drifting in floodwaters", said Bani Issa.
Several roads were blocked due to high levels of water and landslides in Irbid, the Jordan Valley, Zarqa and Madaba, according to a Public Security Department statement.
The concerned agencies were working on reopening those roads by press time Thursday.
In a statement carried by the Jordan News Agency, Petra, CDD called on residents to take cautionary measures and keep away from streamside, drive safe, avoid crossing rising waters and to call 911 in case of emergency.
Among the rescued people were four Kuwaiti nationals and two Jordanians, whose cars stuck in Wadi Rayan, west of Irbid, according to Petra.
Bergish Municipality cadres rescued them and towed their cars back to the main road.
Just across the border with Israel, flash floods killed nine Israeli teenagers who were hiking south of the Dead Sea on Thursday, Israel's rescue service reported.
The casualties were all 18 years old. Israeli media said eight of the fatalities were female and one was male. Police said another hiker is still missing.
Jordan Meteorological Department (JMD) said that unstable weather that peaked on Thursday will continue until Saturday morning.
On Saturday, northern and central regions will witness less rainfall, while it is forecast to be heavier in the southern and eastern regions, a JMD forecaster told The Jordan Times over the phone.
No sandstorms are forecast due to the rain that fell over the past two days, he said.
For temperatures on Friday, the meteorologist said they will reach a high of 22°C in Amman and 28°C in Aqaba.
As of Saturday, temperature in Amman will start rising from 24°C till it reaches 30°C on Monday, according to JMD.
The highest rainfall rate during the depression was registered in Irbid's Samma and Baqoura regions, which reached around 50mm during nine hours on Thursday, said the forecaster, adding that a wrap up report will be ready on Saturday morning.
Related Articles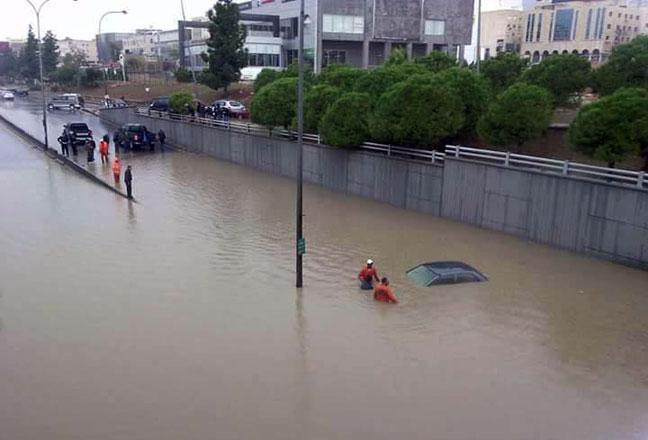 Nov 05,2015
AMMAN — Four people, including two children, died on Thursday as heavy rainfall set off flash floods and wreaked havoc in the capital.In Amm
Nov 03,2014
At least three people died on Monday as a result of flooding caused by heavy rain which inflicted damage on public and private property.
May 08,2014
Several regions in the Kingdom witnessed heavy rain that caused floods as the country was affected by unstable weather conditions on Wednesday and Thursday.
Newsletter
Get top stories and blog posts emailed to you each day.