You are here
FM visits Lebanon, conveys message of solidarity
By JT - Aug 11,2020 - Last updated at Aug 11,2020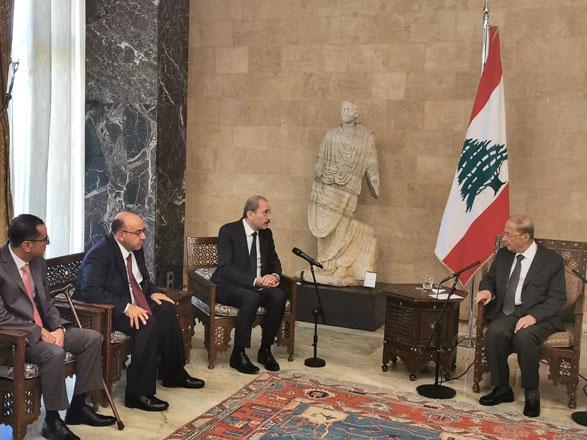 Foreign Minister Ayman Safadi meets with Lebanese President Michel Aoun in Beirut on Tuesday (Photo courtesy of the Foreign Ministry)
AMMAN — Following His Majesty King Abdullah's directives, Foreign Minister Ayman Safadi on Tuesday visited Lebanon and met with President Michel Aoun and conveyed His Majesty's condolences over the loss of lives in the tragic explosion that hit Beirut last week.
Safadi also conveyed King Abdullah's solidarity with Lebanon during his meetings with Parliament Speaker Nabih Berri, head of the caretaker government Hassan Diab and Foreign Minister Charbel Wehbe.
Safadi and Wehbe coordinated means to deliver Jordanian aid to Lebanon, according to a ministry statement.
President Aoun expressed his gratitude to King Abdullah over the Kingdom's stance of solidarity with Lebanon and assistance, which reflect the "deep-rooted ties between the two brotherly countries and peoples".
During two separate meetings with Safadi, Berri and Diab commended the Kingdom's assistance to Lebanon, stressing the "deep-rooted relations with Jordan".
Safadi and Wehbe also went over means to deliver aid to Lebanon.
Safadi reiterated that the Jordanian assistance "will not stop" and that the Kingdom's transport, energy and health sectors, among others, are ready to deliver any international aid to Lebanon, the statement said.
The foreign minister also visited the Jordanian military field hospital, which was dispatched to Beirut upon King Abdullah's directives.
Safadi conveyed His Majesty's pride in the field hospital personnel in carrying out their humanitarian duty towards the Lebanese people "with full dedication and proficiency".
In remarks to the press following his meeting with President Aoun, Safadi said that the Jordanian field hospital "will remain in Lebanon as long as it is needed".
Jordanian airplanes will dispatch relief supplies to Lebanon, the first of which is expected to arrive on Thursday, he said.
The minister also said that "Lebanon will not be alone in facing the repercussions of this massive crisis", expressing his belief that "Beirut will rise again and recover to restore its status as an incubator of culture and enlightenment".
He also said that the government has been in touch with all the UN agencies operating in the Kingdom regarding relief efforts.
Wehbe voiced appreciation for the Kingdom's stance, "which has always been in support of Lebanon", and Jordan's assistance amid the crisis.
Newsletter
Get top stories and blog posts emailed to you each day.