You are here
Food for Training programme a chance to work, learn for vulnerable Jordanians
WFP implementing project in partnership with local NGO, private sector
By Lara Darwazah - Dec 04,2016 - Last updated at Dec 04,2016
Lamia Abdallah is seen working at the Aqaba Vegetable Oil Factory in Sahab recently (Photo courtesy of WFP/Lara Darwazah)
SAHAB — Known as Jordan's industrial district, Sahab is 16km southeast of the capital. Driving into its barren landscape, one will come across large manufacturing businesses known to many Jordanians.
Nineteen-year-old Lamia Abdallah is working to gain the skills and experience to support her family in one of the Sahab factories.
Abdallah has secured the job opportunity through WFP's Food for Training programme. Her employers at the Aqaba Vegetable Oil Factory have given her enough flexibility to alternate between her university studies and her work.
Her job is always there waiting for her after the end of the university term. Having the ability to work and study is vital to Abdallah.
"Studying for me is the solution to my challenges," she said.
Abdallah is one of 2,000 participants in the WFP programme, which is being implemented in partnership with local NGO National Alliance Against Hunger and Malnutrition (NAJMAH) to leverage work opportunities with the aim of increasing employment and — subsequently — food security for vulnerable Jordanians.
Supported by Japan, the Food for Training programme distributes food vouchers to the participants, who are trained in various vocational fields, from factory production work to construction, agriculture and food production.
The training lasts three months, with each participant receiving around JD6-worth of food vouchers for every day of training.
Around 4,000 Jordanians in total have been trained in these vocational fields since the launch of the programme in 2014.
WFP Spokesperson Shaza Moghraby said Food for Training gives employees both the practical experience and the confidence needed to enter the labour market.
"What sets this programme apart from other WFP skills training programmes is the in-depth market research that was done to identify the vocational sectors that have the highest demands for jobs," Moghraby explained.
The results of the market research suggested factory production is in high demand in Jordan.
NAJMAH's representative Afnan Hiyari's job is to visit the factories and find opportunities for work. Based on the vacancies, she recruits workers and connects them with the factory owners.
Hiyari's job also extends beyond this role. She continues to mediate between the factory owner and workers with matters specifically to do with their well-being.
She works to enforce a system that protects the rights of each trainee and employee.
The director of a factory working with the programme, Jad Wakileh, explained: "As management, we work with Ms Hiyari to find out what is needed. It is much easier for the female workers to talk to someone like her instead of us. This communication is crucial to both the factory and the workers".
At the Aqaba Vegetable Oil Factory, Manager Yasin Abdil Rahman, revealed that just like Abdallah, each one of his female workers has a story to tell.
"We take into account people who face a lot of personal challenges and difficulties. Our policy is to provide them with jobs that accommodate their circumstances."
Abdallah said she went against her family's wishes, which were for her to pursue a career in nursing. Instead, she chose to study nutrition and food processing at university.
As a result of her decision she has been subjected to certain hardships.
"My father cut me off from all financial support for a while. I couldn't pay for my studies," she said.
She dreams of a time when she is fully capable of supporting her mother in the same way she has relentlessly supported her throughout her life.
As WFP transitions from direct food aid to building the capacity and resilience of vulnerable populations, it works to emphasise the personal experience of each of its beneficiaries.
Programmes like Food for Training reflect the future of humanitarian aid; rather than relying on direct assistance, vulnerable people will be given the capacity to support themselves.
Ultimately, Food for Training sets an example of what a successful partnership between a UN body like WFP, a local NGO like NAJMAH and the private sector could be.
Similarly, participants like Abdallah set an example in their determination and their willingness to learn.
"I have a long way to go. I finished one year of studies and have four years left. But I will persevere. Through my work, I am able to help my mum in buying her medication and supporting my family in the best way I can."
The writer is an education specialist who also blogs about culture and food (www.alifeonaplate.com). She has partnered with WFP to write a series of articles that explores the lives of vulnerable Jordanians and Syrian refugees through their food.
Related Articles
Dec 04,2017
AMMAN — Around 4,708 youth benefitted from the "money for training" project since its launch in 2014, 60 per cent of whom were females, the
Mar 31,2014
The World Food Programme (WFP) will provide support for underprivileged families in Irbid and Mafraq, which are hosting large numbers of Syrian refugees, under an agreement signed Monday with the National Alliance Against Hunger and Malnutrition (Najmah).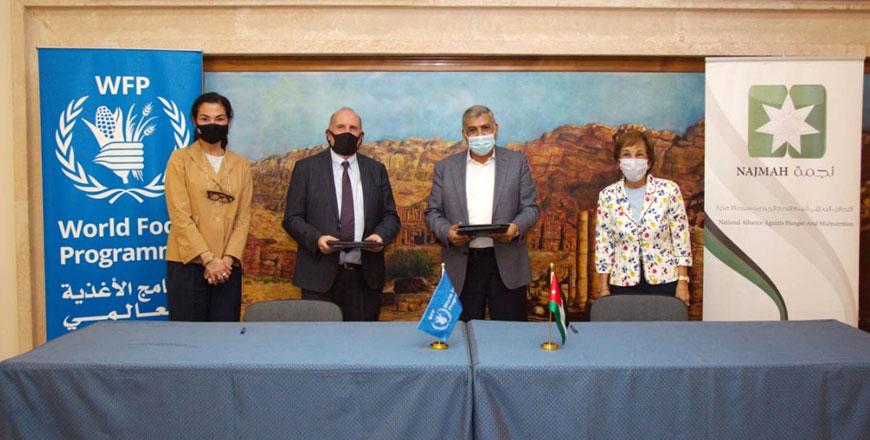 Sep 09,2020
AMMAN — The National Alliance Against Hunger and Malnutrition (NAJMAH), under the leadership of HRH Princess Basma, and the United Nations W