You are here
Former energy minister on mission to preserve Arab heritage
By Saeb Rawashdeh - Sep 12,2015 - Last updated at Sep 12,2015
AMMAN — Although Hisham Khatib has a career spanning 50 years in the energy sector, the former minister has also found the time to dedicate himself to preserving Arab history and heritage.
The former minister of water, energy and planning, has turned his home into a museum, showcasing a vast collection of maps, atlases, paintings, early photographs, manuscripts and valuable books.
The treasure trove of documented history is the result of decades of dedicated and meticulous work, he said in a recent interview at his residence.
"My main advantage is my knowledge," said Khatib, who studied in Cairo and the UK, and witnessed the cultural renaissance in Egypt 60 years ago.
His books — "Palestine and Egypt under Ottomans: Paintings, Books, Photographs, Maps and Manuscripts", published in 2003, and "Jerusalem, Palestine and Jordan: Images of the Holy Land", published in 2013 — deal with the hidden treasures from the period of Ottoman rule in the Holy Land (1517-1917).
His private collection includes hundreds of original first photographs of Palestine and Jordan, including Petra, as well as photographs of Athens that date back to 1860, and a version of the Koran in manuscript and rare early translations into foreign languages.
Jordanian cultural institutions can do more to preserve rich Arab art and heritage, Khatib said, noting that some of them have been doing so in last few years.
"A lot of effort is needed. But it is improving."
"Preservation of culture is becoming appreciated and improving. Museums, the media and articles help a lot. There is increasing activity like that in Amman nowadays," Khatib added.
"Usually there are societies and clubs in which connoisseurs meet and exchange ideas and knowledge," he said.
"This has not developed yet in Jordan. I hope it will in the future. But exchanges and encounters are not uncommon. I am a member of ASTENE [the Association for Study of Travellers in Egypt and the Near East]. It is located in the UK but we hold meetings and conferences in the Middle East region as well."
Prior to the Napoleonic invasion of Egypt and Syria (1798-1801) the West had neglected the Orient after the Crusaders left the area in the late 13th century.
Proper documentation of the region started in the early 19th century, so plenty of documents, paintings and recordings became available, according to the former minister.
Khatib has also studied works of Western scholars, travellers and artists who visited the region and tried to learn more about this part of the world.
Some of their works are based on scientific research while others are just pure fiction, he said.
The atlas of well-known French cartographer Pierre Jacotin is part of Khatib's collection. This is the first scientific atlas of the holy land.
The avid collector also possesses the Palestine Exploration Fund atlas of 1880 called "Map of Western Palestine".
His hobby has gained international recognition and he has given lectures on Ottoman cultural heritage in the holy land in London, at the British Museum.
"I recently lectured about the history of the holy land."
It was Khatib's second lecture there after the one he delivered in 2003 when his first book about Middle Eastern cultural heritage was published.
He said he plans more cultural events and lectures later this year.
"I expect to mount an exhibition about Jerusalem panoramas during the year as well."
Related Articles
Jul 01,2017
AMMAN — The former minister of water, energy and planning Hisham Khatib is also a collector of historical maps, manuscripts, photographs and
Jan 24,2015
An exhibition that opens Sunday will showcase a collection of traditional dresses and jewellery items, in a step to document and revive the region's heritage, according to organisers.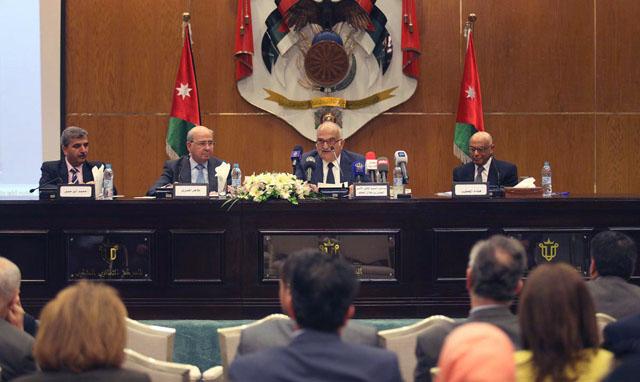 Apr 21,2015
Jerusalem's heritage is not only an Arab Islamic and Christian responsibility, but an international concern that all humanity should preserve, according to HRH Prince Hassan.
Newsletter
Get top stories and blog posts emailed to you each day.