You are here
Free Zones Investors Association laments 25 per cent tax on vehicles
By Maram Kayed - Nov 13,2019 - Last updated at Nov 13,2019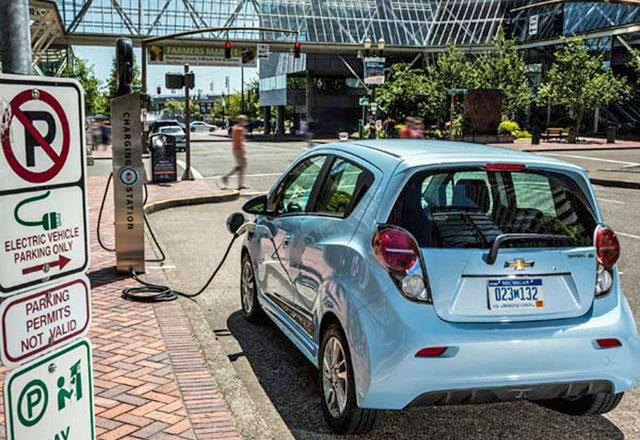 The number of electric cars being cleared out of the Free Zone has dropped to no more than 50 cars a month, according to the Jordanian Free Zones Investors Association (File photo)
AMMAN — The number of electric cars being cleared out of the Free Zone has dropped to no more than 50 cars a month, compared with 700-800 cars in months prior to the imposing of a 25-per cent tax on the vehicles.
President of the Jordanian Free Zones Investors Association (JFZIA) Mohammed Bostanji told The Jordan Times over the phone that the tax imposed on the cars as of May "was not a bright decision, as it has drastically hurt the sector".
The Prime Ministry decided in late 2018 to impose a 35-per cent tax on hybrid cars effective as of January 2019, and a 25-per cent tax on electric cars as of May 2019.
The special clearance tax on hybrid vehicles was also set to increase by 5 per cent each year until 2021, to reach 40 per cent in 2020 and 45 per cent in 2021.
The decision to exempt electric cars until April 30th was due to the fact that the government announced the decision when car dealers had already placed orders that had not yet arrived.
Bostanji said that ever since the tax law went into effect, "no more than 50 electric cars have been cleared each month. In October, only 38 were cleared".
The number of hybrid vehicles cleared in the blue free zone last month amounted to 727 vehicles, with an estimated 40-per cent decline from previous months.
He attributed the decline to "an unfortunate set of government decisions over the years", among them the clearance tax in late 2018, the weight tax in 2017 and the yearly consumption tax in 2016.
"The weight tax, which, at its lowest, requires the citizen to pay JD500 for a car that weighs 1,000 kilogrammes, and continues to increase until it reaches JD1,500 for a car that weighs 1,500 kilogrammes, is outrageous, especially since a 16-per cent sales tax is yet to be added," said Bostanji.
He also mentioned the yearly consumption tax, which used to be reduced by 15 per cent for vehicles produced in the previous year, with an additional 5 per cent taken off for every preceding year, but has been reduced to 7 per cent.
"Citizens used to benefit from this reduction, as buying an older car meant a good deal of savings, but not anymore," said Bostanji.
The JFZIA president, however, praised the "new direction" of Finance Minister Mohamad Al-Ississ, who, since assuming his duties, "has initiated contact with the association and requested that all the challenges facing the Free Zone be identified".
Bostanji said that in a meeting with the minister next week, JFZIA will suggest reducing the 25-per cent tax on electric cars to no more than 10 per cent, and removing the 5-per cent increase on hybrid cars, capping it at 35 per cent.
up
11 users have voted, including you.
Newsletter
Get top stories and blog posts emailed to you each day.