You are here
French-speaking bookworms select this year's Jordan Goncourt
By Camille Dupire - Nov 06,2017 - Last updated at Nov 06,2017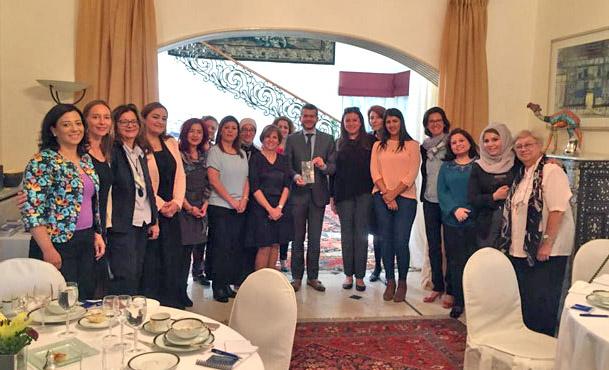 French Ambassador David Bertolotti poses for a group photo with Jordanian French teachers in Amman on Sunday (Photo courtesy of the French embassy in Amman)
AMMAN — Jordanian booklovers on Sunday got together to select their favourite novel for the year 2017, as part of the Prix Goncourt/Jordan selection committee.
The literary event, held for the second consecutive year at French Ambassador David Bertolotti's house in Amman, aimed to spread the culture of reading and French literature among Jordanians.
Speaking at the event, the ambassador noted the importance of this "moment of exchange and debate between French-speaking Jordanians", citing the Prix Goncourt as "a major event in the French literary landscape".
French-speaking Jordanians gathered to discuss the latest publications and to select their favourite literary work for this year, from a pre-selection made by the Paris-based Academie Goncourt.
The participants, most of whom are French teachers in local schools, praised the annual event organised by the embassy, saying it offers a "cultural breath of fresh air" by sharing their pleasure of reading and their love of the French language.
After debating the themes, genres and authors of the book finalists, the 18 readers awarded their Jordanian prize to Eric Vuillard for his book "The Order of the Day".
The novel provides an insider's view of the Anschluss (the German annexion of Austria in 1938) and unfolds the events that led to the rise of Nazism.
The book was selected in a tight race with Alice Zeniter's "The Art of Losing", a powerful account of an Algerian "harki" family who sided with the French during the bloody 9-year Algerian war of independence that ended in 1962.
The Goncourt Prize is the top literary prize in French literature, given by the 10-member Académie Goncourt to an author with "the best and most imaginative prose work of the year", according to its website.
Last year, it was awarded to Mathias Énard, a scholar of Arabic and Persian for his work "The Compass", which tackled the interactions between the Western and Islamic worlds.
"All the books selected by the Académie Goncourt are available at the library of the French Institute in Jabal Luweibdeh for the public to enjoy," Bertolotti concluded, noting that the French Academie on Monday followed the Jordanian vote by awarding the Prize to Vuillard's novel.
Related Articles
Oct 27,2016
AMMAN — French Ambassador to Jordan David Bertolotti hosted three local francophone groups on Thursday to discuss nominations for the Goncou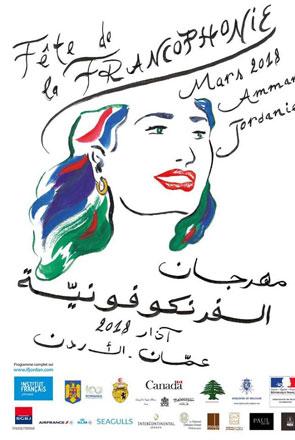 Mar 06,2018
AMMAN — French flavours, melodies and artworks are settling in Amman's landscape, as part of the "Francophonie" month, a worldwide celebrati
Mar 14,2016
AMMAN — Although Nadine Karadsheh has an excellent command of the French language, she still finds a chance to improve her language skills d
Newsletter
Get top stories and blog posts emailed to you each day.