You are here
Friedrich-Ebert Stiftung marks 30 years of work in Jordan
By Dana Al Emam - Jan 21,2016 - Last updated at Jan 21,2016
AMMAN — The German Friedrich-Ebert Stiftung (FES) will continue to work with Jordan's civil community to support local and regional political reforms, according to the foundation's resident director, Anja Wehler-Schoeck.
Speaking at an event Wednesday evening to mark 30 years of the foundation's work in the Kingdom, Wehler-Schoeck highlighted the "distinguished" relations between the foundation and Jordanian partners.
She also called for further cooperation as the region's situation is "becoming more difficult", stressing the need to promote social democracy.
Throughout the foundation's work in the Kingdom, it has engaged in several partnerships that resulted in capacity building programmes and projects in various fields, Wehler-Schoeck said, such as politics, energy and climate.
Jawad Anani, former Royal Court chief and several-time minister, delivered a speech on behalf of HRH Princess Sumaya, president of the Royal Scientific Society, highlighting the cooperation between the society and FES.
Since 2002, this cooperation in the fields of renewable energy, green economy, environment preservation, rehabilitated industrial cities, electronic commerce and tourism development has resulted in the implementation of 21 "important" projects that have affected local policies and laws, Anani said.
Addressing an audience of German, Jordanian and Iraqi diplomats and officials, he commended the role of FES in publishing books and research papers, expressing keenness to further cooperation with FES and German civil society organisations.
For her part, German Ambassador to Jordan Birgitta Siefker-Eberle underscored FES' "significant" activities, which contribute to civil and political life in Jordan, adding that the organisation's work is "complementary" to that of the embassy.
Praising Jordan's efforts to maintain its stability in an unstable region, she said "it remains as important to continue to pursue institutional reforms, which are also crucial for internal stability".
Siefker-Eberle noted that FES is the oldest of six German political foundations affiliated with the main six political parties in Germany, four of which have a presence in Jordan and perform complementary work.
Iraqi Ambassador to Jordan Safia Al Suhail reviewed the foundation's efforts to build capacities and promote democracy in her country since 2003.
German politicians attending the event said the economy, vocational training and employment are central fields with great potential for cooperation in the future.
Related Articles
Apr 02,2014
A total of 890 labour protests were organised last year, only 5.7 per cent of which partially or completely achieved their goals, according to a report released on Wednesday.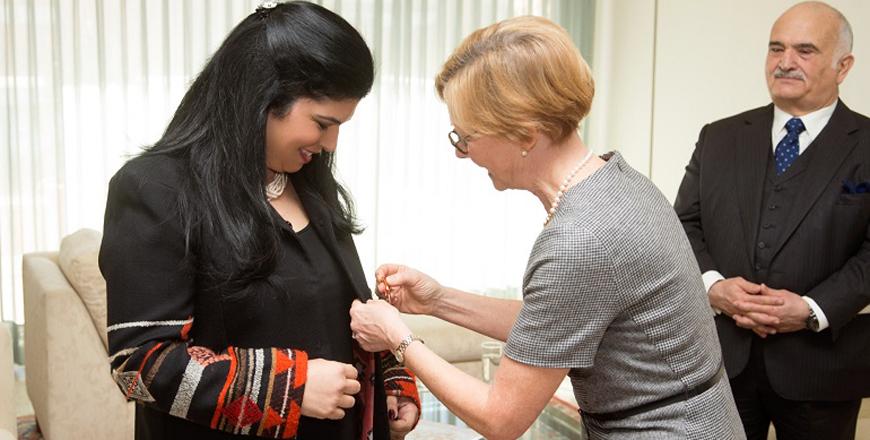 Feb 06,2017
AMMAN — German Ambassador Birgitta Siefker-Eberle on Monday awarded the Order of Merit of the Federal Republic of Germany to HRH Princess Su
Aug 02,2018
AMMAN — German Ambassador to Jordan Birgitta Siefker-Eberle on Thursday stressed her country's support to Jordan's social protection sector,
Newsletter
Get top stories and blog posts emailed to you each day.