You are here
GAGE Jordan research offers view into vulnerable adolescents' experiences, priorities in COVID-19 context
Recommendations include boosting safety net, tailoring remote education for youth with disabilities
By JT - May 21,2020 - Last updated at May 21,2020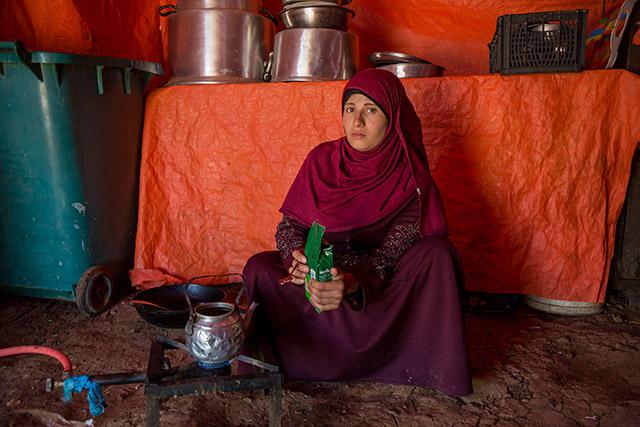 An adolescent married girl is pictured in an informal tented settlement in Jordan in this recent photo (Photo courtesy of GAGE)
AMMAN — The Gender and Adolescence: Global Evidence Programme (GAGE), an international longitudinal research programme funded by UK aid and working in partnership with UNICEF Jordan, is exploring adolescent experiences in the context of the Covid-19 pandemic in vulnerable communities in five governorates in Jordan: Irbid, Mafraq, Jerash, Zarqa and Amman.
The GAGE Jordan qualitative research team, together with support from international research advisors at ODI London, have launched a new policy brief based on more than 100 telephone interviews in April 2020 with young people aged 11-19 years, according to a GAGE press release made available to The Jordan Times.
The young people include "some of the most disadvantaged in the country", among them working and out-of-school adolescents, refugees and vulnerable Jordanians, adolescents with disabilities and married girls who are part of ongoing GAGE participatory research groups, the press release noted.
The interviews aimed to understand adolescents' knowledge, attitudes and practices in regard to COVID-19 prevention and to explore the immediate effects of the COVID-19 response on their everyday lives and wellbeing so as to help inform the response plans of the government and its development partners.
The GAGE findings are "some of the first to emerge" on the effects of the pandemic on young people's lives in Jordan. They show that the crisis has unequally affected the most vulnerable communities and highlighted "stark gender divides", the press release noted.
Young people are generally aware of the pandemic, how it is transmitted, symptoms and key prevention measures, having heard about it on TV and radio, social media and from family members. However, the knowledge they acquire is dependent on access to devices with an Internet connection, which is very much limited for girls and adolescents with disabilities.
Immediate effects of the pandemic response on young people's lives include loss of household and individual income, disruption of education and many challenges associated with effectively using distance learning, as well as high levels of stress due to being confined at home and uncertainty related to the pandemic's trajectory in the country.
Girls' mobility was "much more limited" than that of boys before the pandemic, and the lockdown has exacerbated their isolation while adding more household responsibilities, as a married girl from Mafraq explained: "We are 10 people in the house, and I must help my mother in-law with all the housework. This additional work is really tiring."
Adolescents with disabilities demonstrated more anxiety about the changes they are experiencing and fear for what the future might hold. In families that have lost their incomes, worries about their livelihoods and food security were very prominent, particularly in Jerash Camp, according to the press release.
Key recommendations from this real time research include scaling up safety net measures including potentially cash, food and hygiene kits to reach all vulnerable households and supporting young people to access and more effectively utilise online learning platforms and providing guidance on accessing TV and online resources and community-based mentors where possible in order to ask questions and have them addressed as part of the effective learning process.
The research also recommended tailoring support for the adolescents with disabilities so that they can continue to access education, with specialised online materials needed for young people with hearing and visual impairments in particular, as well as working with NGOs, community-based organisations, social workers and religious leaders to disseminate information and provide virtual services to promote adolescent psychosocial resilience to mitigate high levels of stress experienced as a result of the economic and social challenges stemming from the pandemic response, the press release concluded.
Newsletter
Get top stories and blog posts emailed to you each day.