You are here
GAM criticised for doctored photo of Amman mayor
By Muath Freij - Dec 14,2014 - Last updated at Dec 14,2014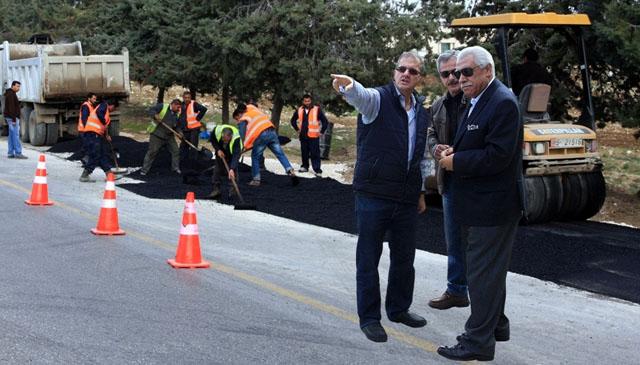 AMMAN — A doctored photo of Amman Mayor Aqel Biltaji released by the Greater Amman Municipality (GAM) on Friday sparked sarcastic comments in the local social media sphere over the weekend.
The photo, doctored by one of GAM's employees, shows the mayor checking on work at the Sinaa (industrial) Intersection project in the industrial area near west Amman's Bayader neighbourhood as construction workers are busy at work behind him.
Mazen Al Farajeen, director of GAM's media centre, said Biltaji did visit the site on Friday and there were photos showing him there.
"One of GAM's staff combined two pictures that resulted in this photo," Farajeen told The Jordan Times over the phone on Saturday.
The mayor's photo was hotly debated by Jordanian social media users over the weekend, with many recalling a similar doctored photo of former awqaf minister Mohammed Qudah that showed him at a meeting he had not actually attended.
Both Facebook and Twitter users posted comments criticising the doctored photo, saying that the changes made to the photo were evident, even for people who are not aware of such techniques.
"The photo illustrates the mayor checking one of the projects through Photoshop in order to save time," @Hamzah_Hantash tweeted.
"A Photoshop master is urgently needed to work at GAM," @4Bara wrote on Twitter.
The intersection project, which was designed to alleviate traffic jams in the area, will take 485 days to finish, according to a GAM statement sent to The Jordan Times.
Related Articles
Nov 19,2016
AMMAN — Tourism Minister Lina Annab and Amman Mayor Aqel Biltaji on Saturday discussed several issues related to tourism in the capital, the
Dec 19,2016
AMMAN — Amman Mayor Aqel Biltaji on Sunday met with a delegation from the European Bank for Reconstruction and Development (EBRD) to discuss
Feb 25,2016
AMMAN — Public Security Department (PSD) Director Maj. Gen.
Newsletter
Get top stories and blog posts emailed to you each day.