You are here
GAM to extend contract of on-call taxi service
By Muath Freij - Jan 29,2015 - Last updated at Jan 29,2015
AMMAN – The Greater Amman Municipality (GAM) has decided to extend the contract of Al Moumayaz Taxi for eight years with the aim of boosting the capital's transport system, a GAM official said on Thursday.
Ayman Smadi, executive director of GAM's transport and traffic department, noted that one advantage of Moumayaz is the fact that it is a dial-up service, unlike regular cabs that cruise around the capital looking for customers.
"When taxis drive around the streets, it causes traffic jams," Smadi told The Jordan Times over the phone, noting that the municipality designated special areas for cabs but no one adheres to them.
He said another reasons for extending the Moumayaz contract is that its owner will replace the company's 400 taxis with 300 hybrid cars and 100 electric vehicles.
"This is in line with GAM's concern over public safety and the environment. GAM wants to turn the capital into a green city," he added.
According to Smadi, the owner of Moumayaz decided to replace the current taxis because most of them are 2008 models.
Moumayaz will also designate a number of cars for people with disabilities.
"The contract will be extended for eight years starting next month because the current contract ends in two years time which makes it unfeasible for the owner to replace the cars," he explained.
Al Moumayaz was launched in 2009 as the capital's first dial-up taxi service.
But with 10,670 regular cabs operating in Amman, Ahmad Eid said he does not feel the need for a dial-up taxi service.
"I can find yellow taxis everywhere," the university student, told The Jordan Times over the phone.
However, Kareem Bader disagreed.
Bader said he sometimes needs a taxi urgently and can call Al Moumayaz instead of looking for a regular cab.
"It has a GPS service that can direct the driver to the required destination, which helps save time," he noted.
Related Articles
May 07,2015
The Greater Amman Municipality (GAM) officially started operating several service cabs in west Amman's Tlaa Al Ali area on Thursday, a GAM official said.
May 24,2015
AMMAN — Noor Jordan for Transport — Taxi Moumayaz will start operating hybrid vehicles in the next three months following an agreement it si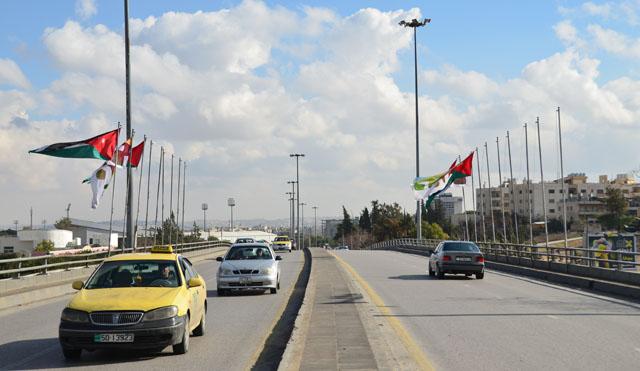 Jan 17,2015
Over 80 per cent of the capital's bus and service cab operators have obtained the new fare permits from the Greater Amman Municipality's (GAM) public transport operations department, a municipality official said on Saturday. 
Newsletter
Get top stories and blog posts emailed to you each day.